Aamir Siddiqi: Detective's 'most distressing' incident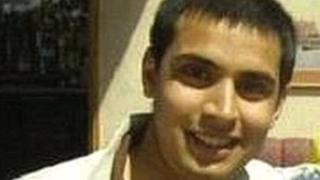 A detective has told a murder trial that the fatal stabbing of a teenager was "the most distressing incident" he had attended in 17 years of service.
Aamir Siddiqi, 17, was allegedly attacked by mistake by bungling hitmen at his family home in Roath, Cardiff.
Det Sgt Stuart Wales told Swansea Crown Court there was terrible screaming and crying when he arrived at the scene.
Jason Richards, 38, and Ben Hope, 39, deny murdering Aamir and attempting to murder his parents in April 2010.
Det Sgt Wales told the jury he arrived at the house in Ninian Road within minutes of receiving a report of a possible stabbing.
"I could tell by the nature of the airway transmission that it was quite serious," he said.
"I have 17 years police service and there is no doubt about it, it was the most distressing incident I have ever had to attend."
"I have a lad of a similar age and it was quite close to home," he added.
'Traumatised'
Det Sgt Wales said that before he entered the house he heard screaming and crying coming from inside.
"I had never heard anything like it, it was terrible screaming," he said.
The detective also recalled seeing Aamir's mother, Parveen Ahmad, at the window.
"The net curtain of the window flung back and I did not expect it to," he said.
"I looked to the right and I saw the face of Aamir's mum, she looked absolutely traumatised. It is still an image quite clear in my mind."
Det Sgt Wales also described Aamir's father, Iqbal Ahmad, as appearing "silently traumatised".
The court has previously heard that Aamir's parents were both injured as they tried to stop their son from being attacked.
Det Sgt Wales said Mrs Ahmad was reluctant to leave the house for treatment while attempts were being made to resuscitate her son.
He said he was also "taken aback" to push open a door and see Ian Nurse, a passer-by who had tried to help, sitting there.
"He was clearly disorientated and shocked," said Det Sgt Wales.
He added that when he asked Mr Nurse who he was, he said: "I was just passing, I tried to help."
Missing log
Under cross examination by John Charles Rees QC, defending for Mr Richards, it was confirmed that a crime scene log, which records who goes in and out of a scene, could not be located.
"You would expect it to be retained," said Mr Rees, to which Det Sgt Wales agreed he would.
The defending barrister also raised issues about preserving the integrity of the crime scene.
Det Sgt Wales told the court: "The integrity of the scene is secondary to preserving life."
He said that many incidents police attend have happened earlier and are "static scenes", but stressed that this particular incident was "almost a crime in action".
"Officers were trying to preserve life, it was very much a case of preserving life," he said.
The jury has previously been told that Aamir Siddiqi's killers pushed their way into the family home and attacked the teenager "indiscriminately", without seeing who their victim was.
The prosecution claims the defendants had been hired by a businessman to attack another man who lived nearby in a row over a property deal that fell through.
Mr Richards and Mr Hope deny murdering Aamir and attempting to murder his parents.
The trial continues.