Metal theft: 20 arrests in Caerphilly clampdown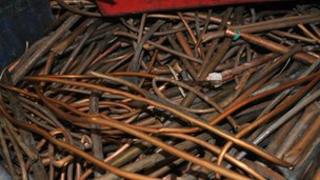 Twenty people have been arrested and thousands of pounds worth of material recovered during a three-week metal theft operation in Caerphilly.
British Transport Police and Gwent Police stopped "itinerant collectors" and checked everyone in the vehicle.
There are now plans to see if it can be rolled out across more areas where metal theft is prevalent.
During the summer, Tonypandy Primary School in nearby Rhondda flooded after lead was stolen from the roof.
British Transport Police (BTP) said 44 vehicles were stopped and searched in the crackdown with 15 loads of scrap metal seized.
Vehicles worth more than £100,000 were impounded in the operation and 23 people reported for driving without a licence.
In addition, 14 people were reported for failing to keep appropriate records of metal sales.
In a statement, BTP said: "Over the three-week period, the work carried out contributed to a massive reduction in metal theft and other aspects of criminality.
"Most notably, not a single metal theft took place in the Rhymney Valley, which had always been an area where metal thefts had caused severe disruption to the railway."
BTP Det Insp Mark Cleland told Radio Wales: "We kept it simple, and it boiled down to two British Transport Police officers together with a couple of Gwent officers working with the environment agency and revenue and customs.
"We were out there daily stopping people, arresting them, working very closely with scrap metal dealers as well."
The initiative was so successful there are now plans to extend it, he said.
Code of conduct
"This was a three-week trial to see if we could really make a big difference and we've shown that we can, so now we're looking to expand this and extend it further to see if we can really make a huge impact on metal theft in south Wales."
Det Insp Cleland added the number of metal thefts had also been cut due to another initiative called operation Tornado "a code of conduct for the scrap metal dealers".
"We work with them and when people bring metal in we ask them to bring photo-identification with them.
"The majority of scrap metal dealers are signed up to operation Tornado and we've seen some success with that already with a huge reduction in metal thefts Wales-wide."
Det Insp Cleland added: "Legislation comes in later this year which will make scrap metal dealing a cash-less system and we think that this, in conjunction with operation Tornado, will really help solve this problem."
One of the initiative's successes has been the recovery of three tonnes of British Telecom Cable and the arrest of one person on Wednesday.
"It could be that you couldn't ring 999 because of this theft, and we see this seizure of cable - worth thousands and thousands of pounds - as a really big success."