Blaenavon Town Team plan to boost trade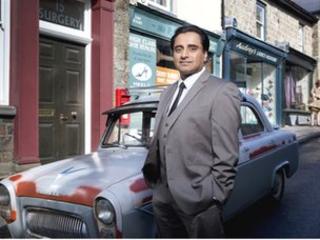 A plea for help to improve the fortunes of a south Wales valleys industrial town, which already has Unesco World Heritage Site status, has been made.
Residents of Blaenavon are being urged to share their time and ideas to help the town capitalise on its Big Pit and World Heritage Centre attractions.
Town centre manager Richard Morgan says shops are missing out on potential custom from tourists.
A public meeting on Tuesday aimed to recruit a "town team" of volunteers.
One of the cradles of the industrial revolution, Blaenavon's well-preserved 18th Century ironworks helped it earn the accolade of Unesco World Heritage Site status in 2000.
But the town has suffered from the decline of its traditional industries, despite efforts and investment to rebrand their sites as tourist attractions.
'Chicken and egg'
Mr Morgan, recently hired by Torfaen council, said more could be done to ensure that the town centre was attractive to visitors drawn to Blaenavon by its history.
"Blaenavon has benefited from physical regeneration but there's only so much a council can lead on," he said.
Tuesday's public meeting would give local residents a chance to have their say, he added.
"It's a chance for people from all walks of the community to come together and do something for the town.
"We will ask people what they'd like to do to improve the town and we'll help them do it."
Mr Morgan said that at one point in recent years, a Torfaen council survey showed that three-quarters of Blaenavon's shops were boarded up.
Chris Rowles, who runs Blaenavon post office, said it was a chicken-and-egg situation, with shops unable to thrive without visitors, but people would not visit if there were no shops.
He said previous initiatives including attempts to rival Hay-on-Wye as a town of booksellers had mixed results.
"We tried years ago with the book town idea but once the funding to subsidise the shops dropped off they started closing," he said.
"It's such a small community that we can't sustain shops on their own."
Mr Rowles said the closure in May of Blaenavon's last bank - a branch of HSBC - had also been a blow.
He said his own motto in seven years' running the post office was "diversify or die".
"We've done everything from bread to dry cleaning, gifts and cards, photocopying - anything that'll make a couple of bob."
Mr Rowles said there was the potential to generate more interest in the shops along Broad Street, which was used to portray a 1960s valleys high street in the BBC Wales TV series The Indian Doctor.
But he said the main B4246 road which ran through Blaenavon served to divide the town centre from even its nearest attractions.
"We have been fighting for years for better signage so that people can find us," he said.
"But once they get into the town and find there's little there, they turn around."
Susan Fiander-Woodhouse, owner and director of the Blaenafon Cheddar Company, claimed the introduction of a one-way system in 2007 cost traders half their business and forced many shops to close.
She said she was exploring the idea of a land train to take visitors from Big Pit to the town centre, but thought traders could do more to help their own situation.
"People don't open regular hours round here - if they're not smiling and greeting visitors when they arrive, they shouldn't complain," she said.
Footfall
Mr Morgan, who previously worked on regeneration schemes in the Forest of Dean, Gloucestershire, said he and Torfaen council had an open mind about the sort of projects they could support.
Referring to the mission of retail expert Mary Portas to boost the nation's high streets, Mr Morgan said there was more to a town centre than its shops.
He thought a weekly market could help bring people into the town centre and boost local traders.
"The problem is that the footfall in the town is not as good as the footfall at the attractions," he said.
"People may come to Big Pit and spend five hours there, but never visit the town centre.
"The town is well placed for weekend visitors - it's got some really good independent shops, a very good bookshop, and the cheese company is well respected," he added.
"We could have one team of volunteers working to launch a market, while another team could spruce up the town with hanging baskets."