Penarth pier pavilion £4m restoration work begins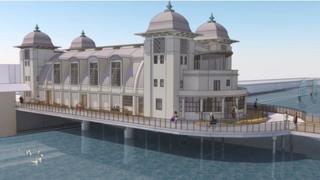 A £4m restoration of a town pier pavilion has got under way with plans to build a cinema, bar and restuarant.
Plans to restore the art deco-style pavilion on Penarth pier were given the go ahead in March 2011, and it is hoped work will be completed in a year.
An exhibition space will also be included in the restoration.
Penarth Arts and Crafts Limited (PACL), responsible for the pavilion, said the project would transform what it offered to the local community and visitors.
Penarth pier opened in April 1895, and drew hundreds of visitors, many of whom arrived there by paddle steamer.
It was refurbished in the 1990s.
The pavilion at its landward end was opened in May 1929, and briefly housed a cinema in the early 1930s, before becoming the Marina Ballroom.
'National significance'
Since the 1970s it has been used in several different ways, including as a nightclub and snooker hall.
PACL chair Paul Twamley described the building as "a heritage building of national significance".
"The project itself heralds a new era - not only for the pavilion and the town's sea front, but for the whole of Penarth and the wider south Wales area," he said.
The project is financed by lottery, Welsh government, Vale of Glamorgan council, Cadw and Coastal Communities Fund cash.
Donations have also been received from a number of philanthropic foundations, said PACL.
Vale of Glamorgan council said construction workers would go on site "in earnest" in October.
Council spokesperson Lis Burnett said the building was "very special for most local people" would have "a huge impact" on the future success of the town.