Wales craft cider producers' crop failure plea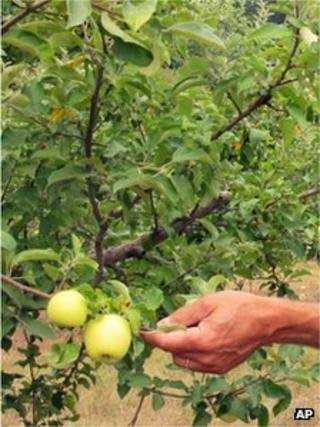 Small-scale cider makers are urging the UK government to cut alcohol duty to help them survive a poor apple crop.
The Welsh Perry and Cider Society say on average orchards have yielded nearly two-thirds less than last summer.
The failure is blamed on a mild winter which failed to kill off parasites affecting bees, followed by a cold, wet summer which destroyed apple blossom.
Alex Coplin of Ty Gwyn Cider in Monmouth said small "craft" producers needed "a helping hand".
Welsh cider makers producing less than 7,000 litres a year make up around a quarter of the UK craft cider industry.
They say this year's crop failure has triggered a sharp rise in the wholesale price of apples, which is forcing many small-scale producers to the brink of bankruptcy.
"It's no exaggeration to say that this summer has been disastrous for us," said Alan Wordworth, owner of Springfield Cider in Llangovan, Monmouthshire.
"Of 20,000 trees in our orchard, six thousand have wilted brown leaves and have produced no fruit while the rest have stunted fruit and a lot less of it.
"This year we'll probably be able to ride it out but if we have another summer like this, I don't like to think about what will happen."
Producers feel that legislation brought in over the last few years to level the playing field between mass-producers and craft producers is exacerbating their problem.
The whole-apple content of all cider sold in Britain must now be at least 35%; up from 10%.
'Vulnerable'
Now that mass producers cannot rely so heavily on concentrated apple juice from China and Russia, they are competing with small-scale craft cider producers for scarce British apples.
According to Mr Coplin, it has left those who do not grow their own apples extremely vulnerable.
"We're very lucky as we have an orchard in the family which can supply us with all the apples we need," said Mr Coplin. "But if you're trying to buy-in off the open market then the situation is very volatile at the moment."
"Craft cider producers are at a disadvantage because our products aren't pasteurised so we can't stockpile from one year to the next like the big manufacturers.
"Of course the government can't control the weather, but they can help us by adjusting duty to reflect the scarcity of apples.
"In bumper years levy more but after summers like this, give the small producers a helping hand."
Mr Coplin said the makers of craft-produced fine ciders help create employment and support the countryside.
And he added that as craft ciders typically take seven months to a year to ferment and mature, consumers would not notice a problem until next summer.
"I can't put a number on it," he said. "I don't know whether ciders will typically be 30p or 50p a bottle dearer next year, but there will be an effect."
"I suspect what will happen is that the big producers will hold down the prices and everyone else will have to follow suit.
"That's going to push some really good ciders to the brink of bankruptcy."