Hilton Hotel, Newport: Norovirus blamed as 74 fall ill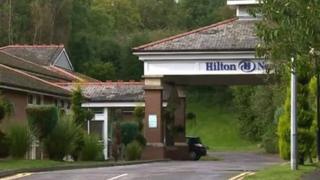 A total of 74 people have become ill after visiting a hotel in Newport.
An investigation is being carried out after 51 guests and 23 staff were affected by a viral infection, which is probably norovirus, at the Hilton Hotel in Langstone.
They started to become ill last Tuesday and suffered diarrhoea and vomiting.
Hilton Worldwide said the wellbeing of guests and staff was of "paramount importance" and it had brought in "stringent" health and safety measures.
Public health officials say the outbreak is not linked to a particular function or event, but the virus was passed by someone originally infected.
Newport council alerted Public Health Wales two days after the first illnesses.
These symptoms are described as "unpleasant but short-lived" and the condition is described as as not serious unless a patient is already in a vulnerable group.
Control measures have been put in place at the hotel to prevent the spread of the infection.
"Investigations carried out by Newport City Council's environmental health team indicate that the illness was consistent with a viral infection passed from person to person, most likely norovirus," said Dr Lika Nehaul, a consultant in communicable disease control with Public Health Wales.
"Gastrointestinal illnesses like this can be easily passed from person to person and it is therefore important that anyone who has had vomiting or diarrhoea should not return to work or school for 48 hours after their last symptoms," Dr Nehaul added.
A spokesperson for Hilton Worldwide said: "Unfortunately a number of guests and team members at Hilton Newport recently contracted symptoms consistent with norovirus, a virus passed from person to person.
"At Hilton Newport the wellbeing of both guests and team members is of paramount importance and as such, stringent existing health and safety procedures were immediately enacted as soon as we became aware of the reported illness.
"The hotel remains in close contact with the relevant local health and safety officials, who are satisfied with the measures implemented and no illnesses have been reported at the hotel for over 48 hours.
"Hilton Newport remains fully open for business and any guests with any queries about their stay are welcome to contact the hotel on 01633 413737."