Aamir Siddiqi: Mum screamed down phone to victim's sister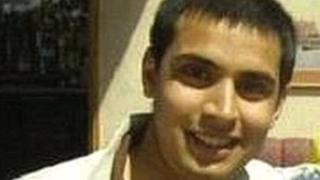 The sister of a teenager who died in an alleged bungled contract killing at his home received a phone call from their mother who screamed "they have killed him", a court has heard.
Miriam Siddiqi had gone to get her brother Aamir, 17, a takeaway meal when he was stabbed to death in April 2010.
She immediately knew there was something wrong when the call came, Swansea Crown Court heard.
Jason Richards and Ben Hope deny murder and attempting to murder his parents.
Swansea Crown Court heard Ms Siddiqi's evidence in a statement read out by prosecuting barrister Patrick Harrington QC.
She and her husband had stayed the night before the incident at the family home in Ninian Road, Cardiff.
She said the day of the incident in April 2010 was "a normal lazy Sunday morning".
'Extremely panic-stricken'
Ms Siddiqi said she and her husband had left in the afternoon and were going to get Aamir a KFC meal.
When the call came through, Ms Siddiqi said her mother was screaming words in Urdu to the effect of "he has left this world", "they have killed him".
Jurors heard that she called her mother back who was hysterical and said: "I do not know what is going on", and "these people, they have stabbed him."
The court was told that Ms Siddiqi was "extremely panic-stricken" and arrived back home to find it cordoned off by police.
Ms Siddiqi said she was informed at the hospital that Aamir had died of his injuries.
The jury later heard from a passer-by who tried to assist Aamir.
Ian Nurse went to the house after being approached by two girls saying they heard screaming.
When he arrived and established what happened, he called the emergency services and followed instructions, which included trying Aamir's pulse.
"There was nothing at all," he said.
The prosecution claims Mr Richards, 38, and Mr Hope, 39, had been hired by a businessman.
It is claimed he was angry because a property deal had collapsed and he wanted to kill another man, who lived in Shirley Road.
The pair - previously described by the prosecution as showing "staggering incompetence" - were said to have gone by mistake to the Siddiqi family home around the corner in Ninian Road.
The court also heard from a former worker at a Volvo dealership who saw a car he recognised being driven by different people.
Simon Haycock told jurors he had sold the car to a white and late middle-aged couple who had a private number plate transferred on to it.
He added that the couple would come into the dealership for it to be serviced.
He said when he saw the car on the day Aamir was stabbed he realised the couple were not in it, and at the time, he described the two males he saw inside as Asian.
CCTV clip
Earlier on Monday, the court heard that the defendants went to T&A Stores in nearby Cathays on the day of the attack.
Sawaz Noor, the shop's owner, said in a statement said that after a female customer left, two males came in, with one turning around and leaving and the other staying.
Mr Richards bought a reel of tape then came back and asked if the shop sold gloves before leaving," it is claimed.
Ms Noor said male two - Mr Hope - was outside. She added that she had never seen the men before.
A CCTV clip of the incident in the shop was also played to the jury.
Last week, the jury heard Aamir's father Iqbal Ahmad recall how after opening the door to the men, they pushed their way into the family home and attacked the teenager "indiscriminately", without seeing who their victim was.
Aamir's mother, Parveen Ahmad, said she believed it was the local imam at the door to give him a Koran lesson.
The jury also visited relevant locations.
Mr Hope and Mr Richards each deny one count of murder and two counts of attempted murder of the student's parents, who tried to defend their son. The trial continues.