New Malaga flight from Cardiff, says Vueling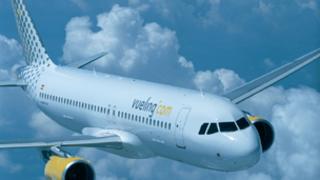 Cardiff airport has received a boost with a low-cost airline offering a new route between Cardiff and Malaga in Spain next summer.
Barcelona-based airline Vueling said it would fly to Malaga after demand from passengers and travel agents.
Although its Palma service is under review, Vueling said it would be offering 35% more seats from Cardiff next summer compared to 2012.
Cardiff airport posted an operating loss of £319,000 in 2011.
At a press briefing, First Minister Carwyn Jones said the Welsh government had worked with the airport over the summer to explore how it could be made more competitive.
He said he was also anticipating announcements about more new routes in the future, although he said he could not go into detail.
Javier Suarez, route planning senior manager at Vueling, which already operates three routes from Cardiff, said: "August and September have been better than expected giving us more confidence in the Wales market.
"Wales passengers and travel agencies have been demanding Malaga, our new route, since we started."
While Vueling's Barcelona service will now operate two days a week instead of three, the airline is revamping the schedule on the service in an effort to improve passenger numbers.
"We are also extending our Cardiff-Alicante route," said Mr Suarez.
"Last summer, we started this route on the 22nd of June. We will this coming year operate the route all the summer season, starting at the beginning of April."
'Highly desired'
But Mr Suarez conceded that the Palma service was still being evaluated and a decision was yet to be made.
In August, the Spanish airline reported a net profit of €7.7m in the second quarter of this year, €4.1m higher than the same time last year.
Steve Hodgetts, commercial director at Cardiff Airport, said: "We are very pleased to confirm the return of Vueling for summer 2013 and the service to Malaga in particular, which is highly desired for travellers from south Wales.
"We call on our customers to support Vueling and all of the airlines and tour operators using Cardiff Airport.
"Vueling's services to Barcelona, Malaga and Alicante demonstrate the strength of the Welsh market and create the confidence amongst airlines which, with support, will enhance worldwide connectivity."
The Vueling services are important for Cardiff, with passenger numbers falling at the airport in the first half of 2012 overall. The airport blamed the fall on the loss of low-cost airline bmibaby.
Mr Jones has previously been highly critical of the management of the airport, which is owned by Spanish company Abertis.
Abertis has said it has no plans to sell but would listen to offers.
"I want Cardiff airport to realise its potential to be a modern well-connected success at the heart of our national infrastructure," the first minister told reporters in Cardiff.
A programme had been approved to "rebrand and refresh" the airport in time for summer 2013, he said.
Earlier this month, Swiss airline Helvetic said it was ending its flights from Cardiff to Zurich for the winter, blaming low passenger numbers.
Mr Jones said he was hopeful the service would resume next year.
The decision by bmibaby to pull out of Cardiff was "significant", the first minister said. "But I think we can now say the airport is moving in the right direction."
A marketing campaign to promote Wales as a tourism destination will be launched in Catalonia next year, including in Barcelona where Vueling has its hub.