Crumlin Real Crisps blaze: Redundancies 'inevitable'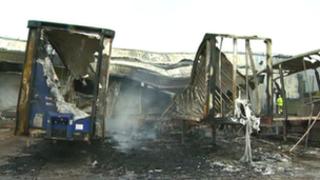 Management at a south Wales crisps company factory destroyed by fire say it is inevitable that some of the 115 staff will be made redundant.
Staff at Real Crisps on Penyfan industrial estate, Crumlin, Caerphilly county, have been told wages will be paid until the end of October.
More than 50 firefighters fought the blaze last Thursday.
An Abertillery man has appeared before Caerphilly magistrates charged with arson with intent to endanger life.
Paul Allen, chief executive of Northern Ireland company Tayto Group, which owns the Real Crisps brand, held a meeting the workers on Monday.
"While we can guarantee salaries to staff until the end of October, it is much more difficult to have any concrete plans beyond that, at this stage," he said.
"Staff have agreed to be flexible and a small number will be able to travel to our plant in Northern Ireland, where we also hand fry crisps.
"Others may be deployed to Corby, but obviously that cannot be anything but a very short-term solution.
"It's not practical economically and it's very disruptive for the individuals and their families.
"Unfortunately it looks like redundancies will be inevitable."
Mr Allen said the time scale of the redundancies was not known but it was not possible to transfer 115 people around the country and he wanted to give staff as much warning as possible.
'Brand will continue'
He added: "Only weeks ago we were looking for staff at the plant to do extra hours - now we are looking at job losses.
"It's hard to believe so much can change in such a short time, but we are in discussions with the Welsh government about what can be done and we shall make sure that the Real brand will continue."
William Graham, the South Wales East Conservative AM, commended the efforts of management and workforce at Real Crisps.
"The impact of the fire is hard to fully realise. A company who weeks ago were looking to extend production hours is now facing making its workers redundant," he said.
"I hope a speedy resolution can be made with insurers and future production at Crumlin can be secured".
Meanwhile, fire crews returned to the site on Monday after small pockets of fire recurred.