Real Crisps factory fire: Man charged with arson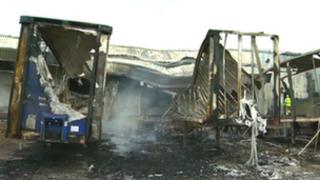 A 30-year-old man has been charged with arson with intent to endanger life following a fire which destroyed a south Wales crisp factory.
More than 50 firefighters tackled the blaze at the Real Crisps plant on the Penyfan industrial estate, Crumlin, on Thursday.
Nearby residents were advised to keep doors and windows closed.
Police said a man from Abertillery in Blaenau Gwent was due to appear before Caerphilly magistrates on Saturday.