£11m to tackle potholes in Cardiff streets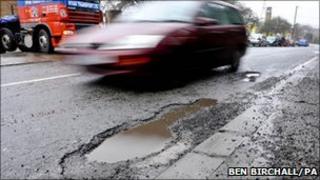 A total of 225 roads in Cardiff are to be resurfaced over the next six months, following pothole damage caused by harsh winters.
The first phase of work costing £5m starts next month although the total repair cost could top £11m.
Cardiff Council is borrowing money from the Welsh government to cover the cost.
Powys council is also borrowing £13m to do similar work and other Welsh councils are expected to take action with the winter weather approaching.
Cardiff council applied for loan under the Welsh government's local government borrowing initiative (LGBI).
It followed the release of figures which show that each year financial claims for damage and injury caused by potholes takes a sixth of the authority's £2.75m road repair budget.
Now, the authority has published a list of Cardiff streets to be resurfaced.
It says residents and businesses in affected areas will be contacted in advance.
Council officials have 20 years to repay the loan.
The amount which the 22 Welsh councils receive from the Welsh government to maintain their roads will be cut by over 90% over the next three years from £68m in 2010 to £6m by 2015.
'Exacerbating defects'
Yet as Geoff French, vice president of the Institute of Civil Engineers explains, investing in preventative resurfacing measures can reduce drastically the amount authorities have to pay in the long term.
Potholes are formed when water runs through cracks in road surfaces, freezes and expands, causing the surface to rupture and creating a void which later caves in under the weight of vehicles.
"Snow and ice are the worst weather conditions for exacerbating existing road defects, due to the repetition of the freeze-thaw process," said Mr French.
"In an ideal world, as soon as there's a problem you'd resurface the road.
"I appreciate that stretched council finances can't always run to this, but simply just filling in potholes is merely storing up problems and bills for the future."
According to the Institute of Advanced Motorists, the problem of deteriorating roads is worse in Wales than England, because a greater proportion of Welsh roads are single-carriageways.
Therefore, they fall under the responsibility of cash-strapped local councils whereas in England there are more dual-carriageways and motorways which are maintained nationally, by the Highways Agency.
Cardiff has by no means the worst.
A Local Government Data Unit survey last March said Cardiff had 9.4% of roads require urgent attention.
The report for 2010-11 showed that 6.6% of Wales' A roads and 7.9% of its B roads were in a "poor" condition.
Earlier this month, the council covering Powys - through which 25% of the Welsh road network passes - announced it would borrow £13m under the LGBI to address the 19.6% of sub-standard roads in the county.