Real Crisps factory fire: Concerned staff willing to relocate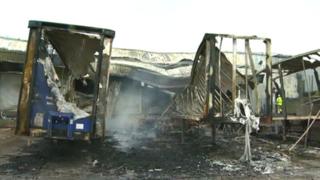 Management at a crisps company say staff at a factory destroyed by fire in south Wales are willing to work at its other sites in the UK.
More than 50 firefighters were called to the Real Crisps site on Crumlin's Penyfan industrial estate at 03:18 BST on Thursday.
Staff are said to be concerned about the future of 115 jobs at the site.
A 30-year-old man from the Abertillery area has been arrested on suspicion of arson.
Paul Allen, chief executive of Northern Ireland company Tayto Group, the UK's third largest snack manufacturer, which owns the Real Crisps brand, held a meeting the workers on Thursday.
He said: "Clearly it's very sad the factory has burned down, but we've had a meeting with staff and each and every one of them indicated their willingness to go to other group sites we have.
"I think it's going to take us a few days because unfortunately a few raw materials, crisp packets and boxes, and flavours have been destroyed and it's going to take our suppliers a few days to put us back into supply, but our staff is our main concern."
He added: "We'll come through this. We've got other capacity in the group and other people within the industry have been very supportive as well.
"At the moment it's early days. We're assessing the situation and trying to put in place some plans which will allow us to continue to supply Real Crisps across width and breadth of the country."
Mr Allen said the heritage of the Real brand was in Wales and "we're not going to walk away from our heritage".
The company, which is based at Craigavon in County Armagh, has factories in Wednesbury in the West Midlands; Scunthorpe, Lincolnshire; Corby, Northamptonshire and Westhoughton in Greater Manchester.
Mr Allen expects Real Crisps to be back in production in about a week.
A Gwent Police spokesperson has said the fire is believed to have been deliberately set.
Environment Agency staff have been monitoring the situation, to ensure local watercourses are not polluted.