Real Crisps factory fire: Man, 30, arrested on suspicion of arson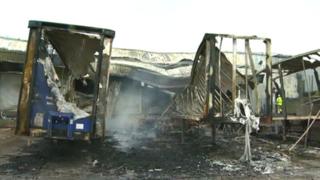 A man has been arrested on suspicion of arson following a fire which destroyed a south Wales factory which makes crisps.
More than 50 firefighters were called to the Real Crisps site on Crumlin's Penyfan industrial estate at 03:18 BST on Thursday.
Gwent Police confirmed a 30-year-old man from the Abertillery area was being held.
Staff are said to be concerned about the future of 115 jobs at the site.
Paul Allen, chief executive of Northern Ireland company Tayto Group, the UK's third largest snack manufacturer, which owns the Real Crisps brand, said all options are open.
"Our focus now is on what we can do for those staff, who are naturally concerned for their jobs," he said.
"We also need to ensure minimal disruption to our customers and we are working hard to bring that about," he added.
"We do have other factories and will be considering all options that are open to us. Once we have fully assessed the situation we shall be able to make further announcements."
Pollution risk
A Gwent Police spokesperson said: "Fire investigators have been at the site today and have established the fire is believed to be deliberately set."
The South Wales Fire Service spent much of the day damping down the fire before carrying out investigations into the cause.
Lyndon Moreton, the area operations manager for the South Wales Fire and Rescue Service, said: "On arrival, our crews encountered a very well developed fire, involving about 75% of the building.
"There was a developed fire due to the contents of the building - fats and oils used in manufacturing process."
Environment Agency staff have also been monitoring the situation, to ensure local watercourses are not polluted.
"Action by the fire service and Environment Agency Wales officers to set up a series of barriers around the area contained the water and prevented a potential risk to the environment," said a spokesperson for the agency.
"The agency believes that local rivers and streams have not been affected but it remains onsite to help with the disposal of the contaminated water and continues to monitor the situation."
Gwent Police are appealing for anyone who has any information about the incident to call them on 101 or call Crimestoppers on 0800 555111.