Cwmbran fire: Family 'devastated beyond belief' at deaths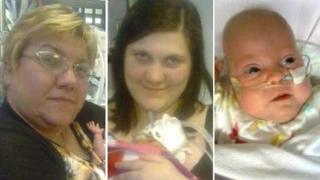 The relatives of three members of a family who died in a house fire in Cwmbran, Torfaen, say they are "devastated beyond belief" at the loss.
Kim Buckley, 46, daughter Kayleigh, 17, and six-month-old grand-daughter Kimberley died on the Coed Eva estate.
On Thursday, Gwent Police were given more time to question a man, 27, from Manchester on suspicion of murder.
In a statement released through the police on Thursday, the family thanked those who tried to save the victims.
The statement from the family read: "We, the family of Kim, Kayleigh and Kimberley, are devastated beyond belief that three people so special to us have had their lives wiped out.
"Kim was a vibrant, proud mother and proud nanny whose life was not easy due to the loss of her two sons in the 1990s."
In 1990, she gave birth to twins Shaun and Leigh, but Leigh died due to a lung illness shortly after birth.
Then in 1992 her son David was born but he died two years later in a carbon monoxide poisoning accident.
Her daughter Kayleigh had only brought her daughter Kimberly home from hospital the day before the fire.
Kimberly had spent six months in hospital after her mother had given birth prematurely at 24 weeks to twin girls, one of which, Angel, was stillborn.
The family statement continued: "She was the happiest grandmother in the world on Monday when baby Kimberley eventually came home from hospital after bravely fighting many battles for six months."
"Kayleigh was a lovely girl and although she found it difficult becoming a mum at first, when she eventually held Kimberley her eyes lit up like a lamp. She was so happy when her baby came home so she could become a proper mum to Kimberley.
'Nightmare'
"Kimberley was a beautiful baby and when she smiled it was the best thing in the world. We are so proud of Kimberley fighting for her life and we are devastated that it was taken from her so cruelly.
"We wish to thank family, friends, the public and the emergency services for their kindness shown to our family since this nightmare began. We would especially like to thank the people who tried to save our loved ones."
The family asked for peace to come to terms with their "overwhelming loss".
A candlelight vigil is due to take place between 18:00 and 19:00 BST Friday evening at St Gabriel's parish church in Old Cwmbran. A book of condolence will also be opened.
Father Michael Phillips, Rector of Cwmbran, said: "There is a profound sense of shock, loss and sadness evident across Wales and the UK, but especially here in Cwmbran, at this terrible happening, affecting three generations of one family, through the death of Kim, Kayleigh and Kimberley Buckley.
'Practical support'
The Bishop of Monmouth, Rt Revd Dominic Walker added: "Words are inadequate at such a time but I want the community to know that the church is there and cares for them.
"I hope this will be a practical support for them in their grieving."
Gwent Police said officers are continuing to investigate the cause and the circumstances surrounding the fire which killed Kim, Kayleigh and Kimberley.
Caerphilly Magistrates Court granted the force extra time on Thursday to question the suspect.
Police have said neighbours tried to save the family in the early hours of Tuesday but were beaten back by flames.
Firefighters were called to the scene at about 03:30 BST.
Police have referred the case to the Independent Police Complaints Commission (IPCC) as officers had been called to the address on other occasions.
Any witnesses should contact police on 101 or Crimestoppers on 0800 555 111.