Facebook: Karla James' death revealed to mother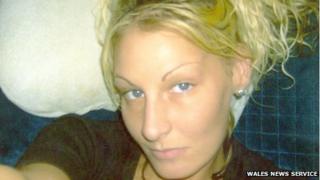 A mother who discovered on Facebook that her daughter had died after police had failed to contact her has made an official complaint.
Cheryl Jones, 49, from Tredegar, Blaenau Gwent, saw a post on the social networking site which said: "She's died. RIP Karla".
Karla James, 30, had died at her home nearby at 20:17 BST on July 23 but Ms Jones was not informed until 23:38 BST.
Gwent Police said an investigation into Ms Jones's complaint was ongoing.
Ms Jones said: "My daughter was found dead and I only found out through Facebook.
"I was Karla's mother, her next of kin, the police should have come to see me straight away."
Tests are being carried out to discover what killed Ms James, a mother-of-one.
She was an aspiring model in her teens, who suffered from heart problems in her youth.
She lived in a flat in Tredegar less than a mile away from her mother who was at home on the night of the tragedy.
Ms Jones said her nephew Barry Llewellyn, 37, rang her to say he had read on Facebook that her daughter had died.
"I kept asking my nephew what had happened but he didn't want to tell me," said Ms Jones.
'Hysterical'
"I couldn't understand how complete strangers could see she was dead by looking at Facebook.
"But I only lived down the road and I didn't know my own daughter was dead."
She said that when she phoned her daughter's mobile, the police said they would be around to see her straight away.
Ms Jones added: "I was hysterical. I had only talked to her hours before about her dog Scooby.
"She said she loved me before she put the phone down - she always did.
"She was the most beautiful girl inside and out and had a childlike innocence. She was a real chatterbox and loved people."
As a teenager, Ms James was pursuing a modelling career then became pregnant at 19.
"She was a wonderful mother to her daughter who is broken-hearted," Ms Jones said.
"She can't believe she will never see her mum again."
Ms Jones has filed an official complaint to the professional standards department of Gwent Police over the delay, and has the support of her MP, Nick Smith.
"I still don't know why my daughter died and I am waiting to find out," she said.
"What makes me so angry is the appalling way I was treated by the police.
"I will never get over losing my beautiful daughter or the way I found out about her death."
An inquest has been opened and adjourned while a post-mortem examination and toxicology tests are carried out.
Nick Smith MP said: "I have asked the police to set out the action they took following Karla's death and I sent this account to Mrs Jones.
"I remain ready to help the family in any way I can."
In a letter to Mr Smith, Gwent Police said: "Inquiries were made to identify addresses for the next of kin to give the sad news of Karla's death but it was not discovered until 11.30pm.
"It is a sad indictment of today's society that an unknown individual made the decision to broadcast such tragic news without consideration for the family."
A Gwent Police spokesman added: "Our professional standards department is investigating a complaint relating to the police response following the sudden death of a 30-year-old woman.
"Due to the fact that this investigation is currently ongoing, we are not able to offer any further details at this time."