Newport: Robbers hold knife to throat of wheelchair man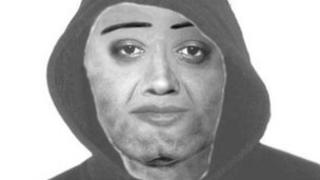 A man in a motorised wheelchair had a knife held to his throat and was robbed in what police have called a "despicable and cowardly" crime.
The victim, 57, was attacked by two men on the riverside path leading from the Millennium footbridge in Newport at about 22:00 BST on Wednesday.
The pair, who were riding silver bikes, stole cash from the man before riding off towards Corporation Road.
They were both described as Asian, in their 20s, and 5ft 8in (1.7m).
Their victim, who was said to be left terrified by the attack, was kept in the Royal Gwent Hospital overnight after suffering bruising on his stomach and a cut to his neck.
Det Supt Ian Roberts said: "This is about as low as it gets - I'm really concerned that two people are prepared to attack a vulnerable man like this."
Both attackers are said to be of average build.
One was wearing a baggy grey hooded top and grey tracksuit bottoms.
The other was wearing a grey tracksuit top with a Nike logo, grey tracksuit bottoms with white stripes and white trainers.
Det Supt Roberts added: "This is a despicable and cowardly crime.
"A victim has been targeted and left terrified by two offenders who have little or no regard for the most vulnerable people in our society.
"We are determined to find the men responsible for this crime and have appointed a senior detective to lead the investigation.
"I would appeal to members of the public in Newport to assist us by offering us any information they may have, whether they saw something suspicious on Wednesday night or have heard any information about who may be responsible."
If you have any information, or saw anything suspicious in the area as the time is asked to call Gwent Police on 101 or Crimestoppers anonymously on 0800 555111.