YouTube: Fancy dress history teacher posts lessons online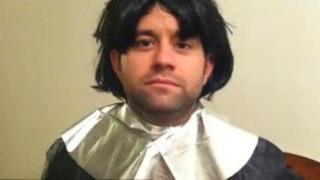 A teacher is giving history lessons by dressing up as famous characters from the past and filming them on YouTube for his pupils.
David Perkins felt his class of 11 to 13-year-olds at Duffryn High School in Newport were bored with learning through books and blackboards.
The 28-year-old started off in 1066 dressing up as William the Conqueror for the Battle of Hastings.
He told pupils: "Go home and log on to YouTube".
Mr Perkins bought a box of wigs and made some colourful costumes to film himself acting out the lives of great historical figures for the videos which are up to five minutes long.
His videos have received hundreds of hits online.
"I just wanted to try a new way of presenting history and what better than YouTube?" he said.
"The kids love to see teachers making fun of themselves and they just seem more receptive - it's had a really good reaction."
Mr Perkins has also dressed up as the last Anglo Saxon King Harold Godwinson who died after an arrow pierced his eye in the battle.
And he also played Norwegian King Harald Hardrada who was involved in the same year in a struggle for the English crown.
Medieval priest Martin Luther and a mythical monk by the name of Friar Perkins are other characters and he plans to bring Elizabeth I - the Virgin Queen - to life in later videos as well as pathologists who examined the victims of Jack The Ripper.
"The children love using computers and mobile phones so I thought I'd try and reach them that way," Mr Perkins said.
"You need to change things you are doing with the kids - if you don't keep it fresh it's like everything, it becomes old and boring.
"We need to change the rules of how we deliver."
He added: "I don't have a script I just go in front of the camera and wing it - although we've had to stop filming a couple of times because I am prone to get the giggles."