Newport Centre pool shut after cryptosporidium outbreak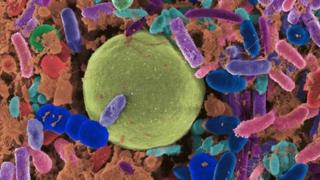 A city swimming pool has been closed after an outbreak of the cryptosporidium bug which Public Health Wales (PHW) is investigating.
PHW said out of 14 cases, seven people used the pool at the Newport Centre, which closed on 6 September after samples showed the disease was present.
It can cause diarrhoea, stomach pain, nausea or vomiting and fever.
PHW said it was working with Newport and Torfaen councils and was "keeping an open mind".
Dr Lika Nehaul, consultant in communicable disease control for PHW, said: "We know that seven of the 14 people who have become unwell since mid-August have visited the swimming pool at the Newport Centre.
"However, some had other possible exposure that could explain their infection and so we are keeping an open mind about any possible links between the cases."
Sheila Davies, of Newport City Council, said the authority took immediate action when cryptosporidium was discovered.
She added: "The pool remains closed and will only reopen when we are 100% satisfied that everything is in order and there is no risk to those using the facility.
"At present it is not known how long the pool will be closed and our top priority is to protect the health and well-being of our customers.
"The remainder of the facility and its programmes remain open to the public for their use.
"Newport City Council would like to apologise to customers for any inconvenience caused.
"There are alternative swimming facilities available at both Newport International Sports Village and the Active Living Centre, Bettws."
PHW advised anyone with diarrhoea and vomiting symptoms to wash their hands after using the toilet or before preparing food to avoid the spread of infection to others.
The disease can affect anyone but is most common in children aged between one and five.
Anyone with symptoms should stay away from work or school until 48 hours after symptoms have stopped, and wait two weeks before using any swimming pool.
More information is available from the Public Health Wales website.