Roath Park lake will be partially drained to tackle weed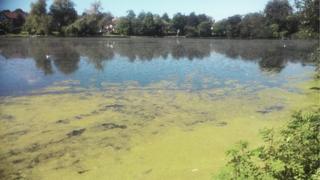 A lake often described as the jewel in Cardiff's crown will be partially drained this month to help tackle an unsightly weed.
Roath Park lake is affected by a green weed, which bloomed last month and has become an annual problem.
Residents say it detracts from one of the city's most visited attractions.
Cardiff council said water levels would be temporarily reduced as part of the lake's annual cleaning to allow vegetation to be cut back.
The beauty spot, which opened in 1894, is the city's most popular public park and has a green flag in recognition of its environmental standards.
But residents say the weed detracts from its appearance.
"As they're fond of telling us, the lake is the jewel in Cardiff's crown but I suppose it all comes down to money," said Margaret Brown.
"But if we don't look after these assets then people won't come."
Cardiff council said the weed bloomed late this season, in early August, due to the "unusual spring and summer climatic conditions experienced this year".
"The pond weed is now starting to die off as the air temperature drops and arrangements are in hand to reduce the lake levels during this month in order to facilitate the annual lake cleaning process," said a spokesperson.
"This process involves the cutting back of the vegetation and removal of debris.
"The reduction of the lake bed serves to expose the pond weed which in turn dies back."
The council said the presence of the pond weed was an indicator of "good water quality, which in turn impacts positively on the lake's ecosystem".
One of the councillors for the ward in which the park lies, Kathryn Lloyd, said a more permanent solution was difficult.
"We've got to treat it as best we can each year," she said.
"If there weren't so many fish then it would be a different matter but the fish are there.
"If we put weedkiller down you risk killing the fish quite apart from the wildfowl."