Merthyr Tydfil Ardagh aerosol plant closes with loss of 150 jobs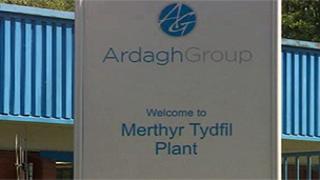 An aerosol plant in Merthyr Tydfil is to close with almost 150 jobs lost.
The Ardagh factory at Abercanaid was earmarked for closure in May with production due to move to Nottinghamshire and Norwich.
Following a period of consultation including discussions with the unions and the Welsh government the company confirmed the plant would shut.
Ardagh said it would do everything it could to offer workers jobs at its other UK factories.
A company spokesperson said: "We have concluded discussions on the counter proposals offered by both union (Unite) and non-union representatives with the outcome that the counter proposals have been declined.
"We have also held discussions with the Welsh government to consider ways of maintaining production at the plant, but a satisfactory long term solution could not be found.
"As stated at the time of the original announcement, Ardagh Group will do everything it can to identify relocation opportunities at other Ardagh locations for the 146 affected employees."
The company, which started life in 1932 as the Irish Glass Bottle Company, now employs 15,000 people in 25 countries across the world.
Its other UK factories are in Scotland, Yorkshire, Nottinghamshire and Norwich.