Cwmbran shoplifting action sees 17 banned from shops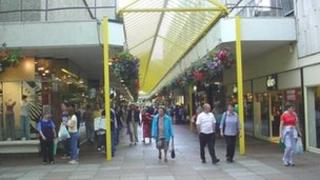 Police say a crackdown on anti-social behaviour and shoplifting has led to 22 arrests and 17 people banned from entering shops in one town in a month.
Among the measures used by Gwent Police in Cwmbran are CCTV cameras monitored 24 hours a day.
Officers patrol the town centre and also use a radio to link with shops and pubs for updates on offender locations.
Figures in July showed overall crime dropped by 15% in Gwent Police, the biggest reduction in England and Wales.
Crime has also fallen due to work with the Cwmbran Businesses Against Crime Partnership, say Gwent Police.
Exclusion scheme
The police and partnership meet monthly to discuss how to tackle issues like shoplifting and to share information.
"Our message to those coming to Cwmbran to commit crime is you will be caught," said Sgt Scott Thomas.
In August, 22 offenders were arrested for shoplifting and anti-social behaviour offences.
Meanwhile, 17 people received one-year bans from the 55 shops and licensed premises under the partnership's exclusion scheme.
Crime has also dropped by 36% and anti-social behaviour incidents decreased by 20% compared to this time last year, say police.
In June, 47 members of staff from Cwmbran businesses received training on what signs to look out for when spotting a shoplifter and also the next steps to take if offenders are spotted.
Sgt Thomas, responsible for the Cwmbran police team, said: "We're really pleased our hard work along with the assistance of local businesses is paying off."