Police and crime commissioner elections: Gwent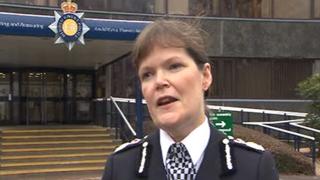 On 15 November 37 police and crime commissioners will be elected in England along with four in Wales.
The PCCs, as they will be known, will be tasked with scrutinising their force and holding it to account. They will also be able to hire and dismiss the chief constable and set the force's budget.
The commissioners will be paid and are supposed to empower local people into having a say on how crime is tackled in their area.
Nominations for candidates in Gwent have now officially closed.
BBC News has taken a look at each of the police forces ahead of the elections.
Gwent Police
Gwent Police force covers five local authorities in south east Wales, namely Newport, Caerphilly, Blaenau Gwent, Torfaen and Monmouthshire, a total area of 600 square miles with a population of 560,000.
It is a mix of urban and rural. Newport city has the largest population with about 150,000 residents. A busy section of the M4 runs through the force area in the south all the way to the Second Severn Crossing.
The force is overseen by the Gwent Police Authority, with Chief Constable Carmel Napier supported by Deputy Chief Constable Jeff Farrar, Assistant Chief Constable Simon Prince and the director of resources Nigel Stephens. Below them are four divisions: operational support, neighbourhood response policing, crime investigation and service development.
The force's focus for the coming period are local crime (anti-social behaviour, domestic burglary and cutting metal thefts), protection from harm (including reducing violent and sexual crime, violent extremism, and organised crime) and improving productivity.
There are 1,441 officers, 1055 staff and 134 police community support officers (PCSOs).
Gwent works in partnership with the three other Welsh forces, South Wales Police (with whom it shares legal services), Dyfed-Powys Police and North Wales Police through the Police Authority of Wales (PAW) and bodies such as the Welsh Extremism and Counter Terrorism Unit (WECTU).
It also works alongside the three English forces with which it shares borders, Avon and Somerset, Gloucestershire and West Mercia.
The force has responsibility for the old Severn Bridge and Avon and Somerset Police take charge of the Second Severn Crossing. Gwent shares a helicopter with South Wales Police, the South East Wales Air Support Unit, which is based at St Athan in the Vale of Glamorgan.
Funding
Gwent has a total budget of £128m for 2012-13, of which £120.7m is revenue costs.
The annual police precept, which is paid by local taxpayers through their council tax bills, is included within that total figure at £39.8m, or £193.09 for a Band D property.
This compares with £169.42 for South Wales, £198.54 for Dyfed-Powys and £214.56 for North Wales.
Following the comprehensive spending review of the police forces in England and Wales in 2010, Gwent has a target of saving £25m by 2015 and losing 126 police officer posts, 9% less than at present.
Crime and performance
In the year to March 2011, Gwent Police force recorded the biggest reduction in crime in England and Wales with a fall of 15%, although sexual offences and crimes involving drugs rose.
Figures to the end of December 2011 show robbery fell 27% on the previous year, burglary fell by 16%, and criminal damage and arson fell by 15%.
A report from Her Majesty's Inspectorate of Constabulary found the force had good financial management and cost reduction strategies and would be able to increase its frontline policing presence by 2015 as a result, with 78% of its staff in those roles.
However, although 82% of victims of crime were satisfied with the overall service they received, this is still a lower number than in most other force areas.