Abergavenny cattle market: public meeting over its future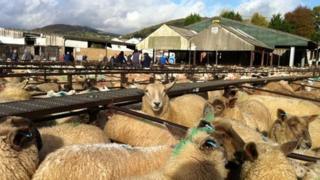 A public meeting has discussed the future of Abergavenny's livestock market.
There is opposition to Monmouthshire council's plan to relocate the market 10 miles (16km) away near Raglan.
It has already agreed to sell the site and build a supermarket.
Jenny Long, from the Keep Abergavenny Livestock Market Campaign, said it was unusual for a livestock market to be located in a town centre but insisted that was why it was so "precious".
Speaking ahead of Wednesday night's meeting, she said: "There is the space to reorganise it and to make it easier for the large transporters to get around - it can be done."
In January, the Welsh government agreed to the council's request to repeal 150-year-old laws requiring it to provide a market in the town centre.
The council, which owns the land, backs plans for the replacement and claims the development of the current town centre market site would help regenerate the town.
It has already given planning permission for a supermarket and a new library on the livestock site.
"There have been acts in place to protect the livestock market and its continuance within the boundaries of Abergavenny," said Ms Long.
'Mess'
"The Abergavenny livestock market is probably the raison d'être of the whole town, and it still works.
"It's very busy - it's a mess, it needs reorganising and modernising - but it is also something that the farmers who use it want to maintain because they want to be in the centre of an area where they've got facilities and access to agricultural dealers and so on."
Two judicial reviews will be heard in October over the matter - one against the Welsh government for its decision to repeal the act and the second is against the council giving permission to sell the land.
A report commissioned by the Abergavenny Civic Society (ACC) earlier this year claimed redeveloping the existing market would use approximately half of the council's new site.
The report said redevelopment would cost about £2.25m, but the council's plan would cost closer to £5m.
The council said money made from the sale would help improve schools.
A spokesman said: "Our plans, which are backed by both the NFU and the FUW, will help regenerate the town, provide farmers with a state-of-the-art livestock market, provide the town with a new library and help contribute financially to the £80m 21st Century schools project to upgrade King Henry VIII and Monmouthshire's other three high schools."