Tina Selby knits 10,000th hat for Afghanistan soldiers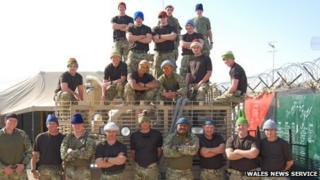 A woman who turned her love of knitting to helping British soldiers fight off the cold in Afghanistan has topped a remarkable milestone.
Tina Selby, 50, from Penarth, Vale of Glamorgan, has now knitted more than 10,000 woolly hats.
In 2009, Mrs Selby planned to knit just 500 for regiments in Helmand province.
But, following the response she received from the troops, Mrs Selby will carry on knitting until the soldiers leave Afghanistan.
"It's a full-time job," said Mrs Selby, who is retired.
"But I'll keep going until they come home in 2014."
Over the years, Mrs Selby has received special requests from soldiers, including 24 bobble hats for the army disposal unit.
"We don't make them with bobbles so I spent all weekend making bobbles for them," Mrs Selby said.
"And for the dog patrol unit we sent hats, Kit-Kats and doggy chews."
Mrs Selby receives parcels of knitted hats from as far away as Spain, Cyprus and even Barbados every day.
While the soldiers do not wear the hats out on patrol because it is not part of their uniform, but they have been wearing them in bed.
With the Afghanistan winter coming to an end, Mrs Selby is preparing for next posting of hats in October.