National Trust seals deal over Dyffryn House and Gardens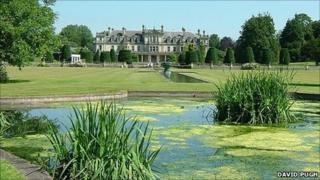 The National Trust has completed a deal to take over the running of a mansion house and its Grade One listed Edwardian garden in south Wales.
Vale of Glamorgan Council will lease Dyffryn House and Gardens to the Trust for 50 years from January 2013.
Both organisations said the National Trust was better placed to make the venue "one of the most significant visitor attractions in south Wales".
A similar deal, to lease Tredegar House in Newport, was completed last year.
That property will also be leased under a 50-year agreement.
'Partnership'
The Heritage Lottery Fund (HLF) awarded the 55-acre Dyffryn Gardens more than £6.15m for restoration in 1997, followed by £600,000 to restore and open the Grade II* listed house to the public.
Justin Albert, National Trust director for Wales, said: "As we saw with the agreement and handover of Tredegar House six months ago, we feel this can be another great example of how the National Trust and councils can work together in partnership to preserve our cultural and historical heritage in Wales.
"From next year we are pleased that we will have two marvellous properties to offer residents and visitors to south east Wales."
Vale of Glamorgan council leader Neil Moore said: "We expect visitor numbers to boom, boosting local tourism hugely."