Cardiff Airport: passenger numbers fall defended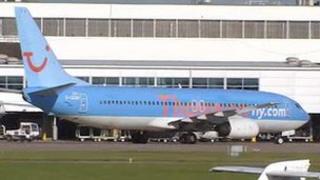 Cardiff Airport has defended its performance despite a fall in passenger numbers in the first half of 2012.
From January to the end of June 440,000 passengers used the airport, compared to 558,000 in the same period of 2011.
The airport said the majority of the fall was due to the decision of bmibaby to pull out of Cardiff.
It added that new services to Spain and Florida were "positive developments" and that it enjoyed a "strong" charter market.
The airport said passenger numbers for the first months of 2011 would have been 464,000 if bmibaby flights were taken out of the equation.
New routes
Despite the decline, a spokesperson stressed there was cause for optimism.
"Summer 2012 has seen many positive developments including the launch of low cost airline Vueling with flights to Barcelona, Alicante and Palma plus Cosmos operating flights to Orlando," the spokesperson said.
"However passenger numbers have decreased year on year due to airline capacity cuts and the termination of operations by low cost airline bmibaby.
"Cardiff Airport continues to have a very strong charter market and load factors on scheduled services have also strengthened.
"Inbound traffic to the airport has also increased over the past year, and naturally inbound traffic is more beneficial to Wales and the Welsh economy."
The spokesperson added that route development remained a priority for the airport, which was working closely with the Welsh government through the newly established Airport Taskforce and Enterprise Zone.
The airport had also put on hold plans to recruit a new managing director to replace Patrick Duffy, who left in May, saying it would continue to be run by its current directors for the time being.