Cardiff City FC: red shirt protest is called off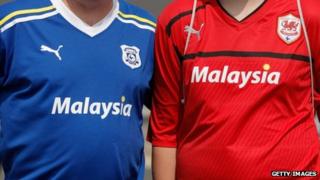 Fans opposed to Cardiff City FC's change of shirt colour have abandoned plans for a protest before the club's first competitive game in the red kit.
The Keep Cardiff Blue campaign group had planned a demonstration ahead of the club's Championship match at home to Huddersfield Town on Friday night.
They said they were calling off the action after police advice that the club would ban any protest on its land.
But the group urged people to "make their views known" at the match.
Cardiff City's change of shirt colour from blue to red caused controversy when it was first proposed in May.
The club's Malaysian owners said it would make the club more marketable in Asia, where red is considered a lucky colour.
Chairman Dato Chan Tien Ghee, known as TG, initially indicated they would reconsider the change in the light of opposition before confirming in June it would go ahead.
The decision has divided supporters, some citing loyalty to the club's traditions, while others support the move as part of a package of investment in the club's future.
Camapign group Keep Cardiff Blue posted a statement on its website that it was calling off a protest against the new red shirts planned for the Cardiff City Stadium at 18:45 BST on Friday.
"We received advice from the local police that the club has banned any protest at all from their land and anybody doing so will be moved on," the statement said.
"In the light of this and the previous threats of violence against protesters from prominent supporters of the club's rebrand we feel duty bound to cancel the planned protest scheduled for 6:45pm outside the main entrance to the stadium.
"We urge all those who care about the club's identity and believe it is more important than the whims of one man to make their views known tomorrow (Friday) night."
Cardiff City's new red shirts went on sale for the first time last Friday, with the club claiming there had been a "big demand" for them.
The new kit was worn by the team for the first time last Saturday, when City beat Newcastle United 4-1 in a pre-season friendly.
Blue shirts will still be worn - albeit with the club's new dragon logo - as part of the club's change strip.