Thresher shark sale defended by Cardiff fishmonger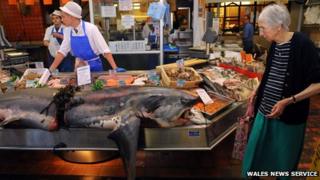 A fishmonger has defended the decision to sell a species of shark classed as vulnerable on his market stall.
The 20ft (6m) thresher shark went on sale at Ashton's in Cardiff central market after being caught by a trawler fishing for mackerel.
It is on the "Red List of Threatened Species" and conservationists discourage shoppers from buying it.
Manager Nick Adams said his business had had mixed feedback, including complaints, but it did nothing wrong.
The 550lb (250kg) shark was landed in Falmouth, Cornwall, by a trawler - The John Boy - in the English Channel, and sold on for £3,000.
Thresher sharks are more commonly found off the coast of Asia and North America.
A string of sightings have been reported in British waters in recent years, which marine scientists attribute to climate change.
However, news of the shark on sale prompted complaints to the fishmonger pointing out that thresher sharks had been classed as "vulnerable" according to the International Union for Conservation of Nature and Natural Resources (IUCN) Red List of Threatened Species .
A spokesperson for the Marine Conservation Society (MCS) confirmed that it was not illegal to catch thresher sharks in UK waters, but it discouraged people from buying shark meat or other products because of its vulnerable status.
'Permissible catch'
"These sharks form part of the permissible catch in the UK," said the spokesperson.
"However EC regulations prevent the removal of shark fins at sea and the subsequent discard of the body.
"MCS advocates the development of effective by-catch reduction devices in all trawl fisheries to minimise the incidental landing of shark and other vulnerable species."
Speaking for Ashton's, Mr Adams said the company had received good and bad feedback, and had sold several portions of the shark, mostly to caterers.
He said the sale of the shark was perfectly legal, and the business had "done nothing wrong".
"When she was caught she was already dead," he said.
"The trawlerman couldn't do anything else but bring it in - he's not allowed to dump it.
"We've done someone a favour by selling it."