London 2012: Cardiff Olympics street beggars row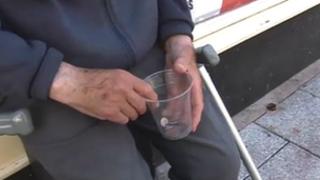 A row has broken out over a call to clear Cardiff's streets of beggars and people sleeping rough before the Olympics.
Retailers want police to use a 200-year-old vagrancy law to solve what they feel is an increasing problem.
But Huggard, a charity which has just opened a new £9m centre in the city, said homeless people should not be criminalised.
South Wales Police have been asked to comment.
Last week a group of Cardiff shopkeepers claimed there had been a rise in begging which could leave Olympics visitors with the wrong impression of the city.
Cardiff Retail Partnership said that in the past year the number of people begging or abusing alcohol on the street had gone up.
On Tuesday Jonathan Hughes-Lewis, a partner at Jonathan David jewellers on St Mary Street, reiterated the call for the police to take action, citing the 1824 Vagrant Act.
The law makes it an offence to sleep on the streets or to beg.
"If they are not using it [the Act] we need to know why they are not using it," said Mr Hughes-Lewis.
"Something like that seems very, very harsh but if there's no other alternative we need to do something about it."
Mr Hughes-Lewis told BBC Wales there was a particular problem with beggars and people sleeping rough in the St Mary Street area, and some retailers were moving because of the problem.
'Positive'
"They've just got so fed up with the situation. They don't feel there's enough support here so they've decided to pack up a move to another area of Cardiff.
"We're not trying to sort of stereotype them and say that all these people who have fallen on hard times, they are no good to society... just move them on," he explained.
Referring to the new Huggard homeless centre, a new 70-bed centre for the homeless near Cardiff city centre which opened this week, Mr Hughes-Lewis added: "It's almost because it's so large it's encouraging people to come to Cardiff."
Richard Edwards, chief executive of Huggard, said nobody wanted to see homeless people on the streets.
"We don't," he said, "and we're trying to do something positive about it.
"Arresting homeless people and criminalising homeless people does very little to integrate them back into society.
"What we need is to actually work with them, identify why they are homeless, address those issues and get them back into independent living."
Mr Edwards denied that the opening of the centre, aimed at engaging with homeless people to get them off the streets permanently and back into accommodation, was attracting homeless people to the city.
"Homeless centres don't attract people," he said. "Cities attract homeless people because they believe there are opportunities here.
"Every major city in the world homeless people will gravitate towards because they believe that when they get there they have opportunities to change their lives and make their lives better.
"By not having facilities to address homeless people arriving in a city you actually make the situation worse rather than better."
South Wales Police have said there no figures are available on whether there had been a rise in incidents involving street homeless people in the past 12 months.
A spokesman has said: "Begging and street drinking continues to be a Police and Communities Together (Pact) priority for residents and businesses in the city centre and therefore the neighbourhood policing team continues to take action.
"Over the last 12 months a number of anti social behaviour orders have been issued to persistent offenders as a last resort when all other attempts to assist and support the individual have unfortunately failed."