Pembrokeshire council apology to pupils over 'time-out' room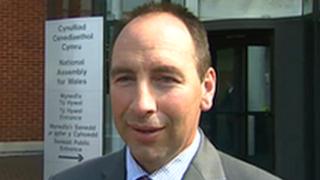 The leader of Pembrokeshire County Council has made a public apology to pupils who were put into a padded "time-out" room.
A complaint was made in June 2009 concerning the pupil referral unit in Neyland.
Jamie Adams said sorry after claims that children were locked in the room.
Last September, ministers sent experts into the council after problems were highlighted and it received a final warning from the Welsh government.
Inquiries by the Care and Social Services Inspectorate Wales and schools inspectors Estyn had warned about failures.
New information about the controversy surrounding child abuse allegations was later passed to the police.
A complaint was made in June 2009 about children being locked in the room, which had no natural light or ventilation, at the pupil referral unit in Neyland.
The board of experts sent into the council discovered a "very similar padded room" at a primary school elsewhere, which also had two other windowless rooms in which children were routinely locked.
There was another claim that a six-year-old pupil had his hands tied by a teachers.
Education Minister Leighton Andrews said this week that the council must answer to the ministerial board and that he had "little confidence in certain senior officers".
Meanwhile, the children's commissioner Keith Towler said he had been given a "cast-iron assurance" the room at the pupil referral unit (PRU) would never be used again, and that its door had been removed.
At a full council meeting on Thursday, Mr Adams said: "I offer an unreserved apology for these actions," he said, adding the council had shown its "commitment" to ensuring it would not happen again.
On Thursday, at a full council meeting, Mr Adams said: "The previous leader of the authority dealt with the joint investigation report at the time of its publication.
'Unreserved apology'
"On a specific matter identified in the report, I would like to place on record my regret about some of the practices previously undertaken in the PRU.
"It is clear that for a period up to June 2009 individual children within the PRU were on occasion withdrawn to, and appear to have been restrained within a 'time out' room.
"I offer an unreserved apology for these actions.
"I would also like to reassure current pupils within the PRU, as well as the wider community in Pembrokeshire, that the practice described was stopped as soon as the authority was made aware of it and that instructions were issued to all schools prohibiting the practice described.
"As an organisation we have already demonstrated and continue to reinforce our commitment to ensuring there can be no repeat of this type of incident."