Minister defends university merger of Cardiff Met, Newport and Glamorgan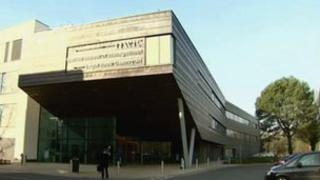 Education Minister Leighton Andrews has defended his plan to force a merger of three universities in south Wales, despite opposition from one.
Newport has agreed to merge with the University of Glamorgan, but Cardiff Met is "disappointed" with the plan.
Mr Andrews accused Cardiff Met of "denigrating" other universities and said a merger was vital for survival.
Unions representing students and lecturers have welcomed the merger as offering more choice and job security.
The announcement on Tuesday came a day after a report concluded that Newport and Cardiff Met could not survive if they did not merge.
Mr Andrews said he had noted the response of the Cardiff Met board to the planned merger of Newport and Glamorgan after it voted 13-1 in favour of staying independent.
The minister said the merger was likely to use the vehicle of the University of Glamorgan, making it necessary to dissolve the University of Wales Newport.
Speaking to BBC Radio Wales on Wednesday, Mr Andrews defended his decision to force through the merger.
"I think it's time for a proper discussion about these things," he said.
"I'm a bit irritated really with some of the people who've been associated with Cardiff Metropolitan University denigrating the University of Glamorgan and the University of Wales Newport.
"What we're seeking to do here is to build on the strengths of all of the institutions and create a powerful metropolitan university for south east Wales."
'Withstand pressures'
Mr Andrews said the University of Glamorgan had a stronger research base than the other two bodies, and 96% employability rate for its students.
He added that a merger was necessary for Welsh universities to keep pace with its rivals across the UK.
"I think it will be easier for management to withstand the pressures that are going to come in the competitive UK higher education system with the critical mass that this new institution will have," he said.
Matthew Waring, branch chair of the University and College Union representing staff at Cardiff Met, said they supported the merger plans despite the board's opposition.
"It seems to us a little perverse that you've got three very similar size institutions doing very similar things in very close proximity," he said.
"We're very concerned for our members' jobs that Cardiff Met's plan to stand alone is incredible risky.
"We think there are far greater career opportunities and job security in a new institution."
Stephanie Lloyd, president of the National Union of Students (NUS) in Wales, also supported the merger as being good for students.
"We want to make sure that what is happening is in the best interests of students - that we're talking about access, job prospects, the student experience - stuff that students actually care about and not just what their institution is called."
However, Brian Morgan, professor of entrepreneurship at Cardiff Met, said the merger risked diluting its achievements.
"What you have here is the best new university in Wales, well run, well led, a solvent university, being forced to merge with two other less successful universities without any rationale or business case being presented," he said.
"What we're going to have here is a supersized university, multi campus, multi site, which will be just unmanageable.
"There is no evidence that mergers are successful in this respect - in fact they really do dumb down standards."