Street begging Olympic problem for Cardiff - retailers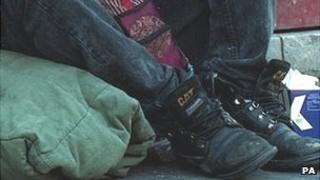 A group of Cardiff shopkeepers say there has been a rise in begging which could leave Olympics visitors with the wrong impression of the city.
Cardiff Retail Partnership says that in the past year the number of people begging or abusing alcohol on the street has gone up.
Its members link the problems to the temporary siting of a homeless shelter near the city centre.
But Cardiff council said there was "no data whatsoever" to support the claim.
David Hughes-Lewis, the spokesman for Cardiff Retail Partnership, said there had been a noticeable rise in street begging in the time since the council-run Tresillian House and an independent one run by the Huggard charity had moved to temporary accommodation in Custom House at the bottom of St Mary Street.
"It's a massive issue for the partnership retailers in or around St Mary Street," Mr Hughes-Lewis, also owner of Jonathan David Jewellers, told BBC Wales.
"The last thing I want when the Olympics are on is a greater number of beggars. I'm Cardiff born and bred and I don't want people to go away with that as their impression of the city.
"It's begging, alcohol abuse - we've been campaigning for two years. We get them outside our shops asking people for money and calling in."
A spokesman for Cardiff council said there was "no data there whatsoever" about a rise in begging linked to the hostel, adding: "We have asked where the evidence for this is."
The homeless shelters are due to move into newly-built accommodation back on their original site in Dumballs Road, south of the city centre, later this week.
A spokeswoman for South Wales Police said there were no figures available on whether there had been a rise in incidents involving street homeless people in the past 12 months.
Supt Julian Williams said: "Our priority as a police service is to work together to ensure that Cardiff remains a safe place to work, live and visit.
"Officers work closely with the local authority to divert vulnerable individuals towards support agencies who help with issues such as alcoholism and housing needs.
"Begging and street drinking continues to be a Police and Communities Together (Pact) priority for residents and businesses in the city centre and therefore the neighbourhood policing team continues to take action.
"Over the last 12 months a number of anti social behaviour orders have been issued to persistent offenders as a last resort when all other attempts to assist and support the individual have unfortunately failed."