Brian Thomas, Neath and Wales rugby player and coach, dies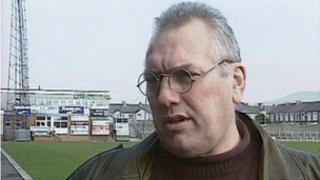 Tributes have been paid to former Wales rugby international Brian Thomas, who has died aged 72.
The lock forward won 21 caps for Wales in the 1960s, captained Neath, and successfully managed the team in the 1980s and 1990s.
Mike Price, secretary of Neath RFC, said Thomas had been an "immense leader on and off the pitch".
Neath MP Peter Hain paid tribute to him on Twitter as a "great Neath rugby giant".
Thomas died early on Monday after a long illness.
At the height of his career in the late 1960s, Thomas was capped 21 times for Wales.
Thomas, who could also play prop, won his first cap against England in 1963 and was part of the Wales sides that won the Five Nations in 1964, 1965 and 1966.
His final appearance in the red jersey came against New Zealand in Auckland in 1969.
He also won three rugby union Blues while at Cambridge University.
Educated at Neath Grammar School, he went on to become Neath's team manager in 1981 and is described as revolutionising the side.
Under his management until 1996, Neath topped the Welsh clubs five times.
During that time Neath also notched up significant performances at the Gnoll against touring New Zealand, Australia and South Africa sides.
A statement on the Neath RFC website read: "It is with regret that we announce that Neath legend Brian Thomas passed away in the early hours of this morning after a long illness.
"We would like to express our deepest sympathy to his family and friends."
Mr Price, also the club's historian, described Thomas' contribution to Welsh rugby as "tremendous" and said he "commanded total respect".
'Razor-sharp mind'
"In modern times no one else has had a greater influence on Neath Rugby Club than Brian Thomas," he said.
"He was an immense leader off and on the field and had a wonderful ability to bring the best out of people.
"He had a razor-sharp mind and clarity of thought. He was a great in every sense of the word."
Mr Price added: "He was incredibly kind and concerned for the well-being of those he knew. I was certainly inspired every time I was fortunate to be in his company."
Mr Hain tweeted: "Very sad death of great Neath rugby giant Brian Thomas after long illness. Sympathies to Brian's family."
Sean Holley, former coach of the Ospreys region which grew out of Swansea and Neath, also paid tribute on Twitter, saying: "Really sad to hear about the passing of Neath legend Brian Thomas. He was an inspiration to many. Thoughts go out to his family."
A tribute has also been paid by London Welsh coach and former Wales flanker Lyn Jones, who played under Thomas at Neath.
"It's a really, really sad day for me personally as well as Brian's family and the world of rugby," he said.
"Obviously Brian was a giant of a fella physically, but more so than that he was a giant of a man and he did so much for so many people… and if there is ever a true mark of greatness then it's that he spread greatness and if that is so then Brian Thomas will always be remembered as a great, great man."