Big Brother's Glyn Wise gets a new job as Welsh teacher at secondary school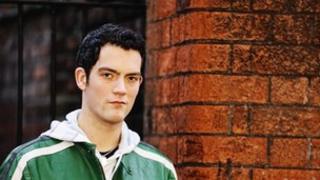 Former Big Brother star Glyn Wise has a new job as a secondary school teacher.
The 24-year-old from Gwynedd will teach Welsh at Ysgol Rhydywaun secondary school near Aberdare from September.
He finished runner-up on the Big Brother 7 in 2006 and worked in the media whilst going to college.
Head teacher Hywel Price said Mr Wise had made a brilliant impression on the school governors and no-one recognised him until after he was appointed.
Mr Wise said he could not wait to get into the classroom.
"I feel that I want to do something for the Welsh language. Saunders Lewis [language campaigner and writer] is my hero and I'll now get the opportunity to teach Welsh to pupils in Aberdare," he said.
"Growing up in Gwynedd it was the Welsh language that you heard every day, and in my home town of Blaenau Ffestiniog only around 3% of the population didn't speak Welsh.
"In Rhydywaun it's the other way around with only about 3% of children speaking Welsh, so I'd like to inspire pupils there to learn the language and to go on to university to study it," he added.
After his stint on Big Brother Glyn Wise has worked on TV and radio - including regular slots on BBC Radio Cymru - and intends to carry on with this work, but will not be carrying it into the classroom.
"Sometimes the children want to be friends with me because they feel that they know me, but I won't be discussing Big Brother with them, and will be just like any other teacher," he said.
The head teacher at Ysgol Rhydywaun, Hywel Price, said Mr Wise was appointed on merit out of four applicants.
He said his "enthusiasm and energy" about teaching had struck the appointments panel.
"No mention was made of his background and in fact no-one of the governors realised who he was until after he was appointed.
"In fact afterwards one of the governors said he reminded him of someone from the TV, and it was pointed out that it was in fact him," he added.