Protest held at Blaina and Nantyglo hospital demolition plan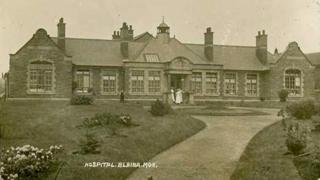 A demonstration has been held over plans to demolish a former community hospital in the south Wales valleys and build bungalows at the site.
Blaina and Nantyglo Community Hospital closed in October 2010, a century after it was founded by miners.
Blaenau Gwent council is consulting on proposals by United Welsh Housing Association for elderly people's homes.
Opponents said the plans were "a disgrace" and destroying the heritage of the town.
The building in Ebbw Vale is not listed but campaigners claim pulling it down will "tear a hole" in the community.
The hospital has lain empty since was closed, but began life as the hub of the community's health service.
Its construction and running was paid for by local mining communities.
Demonstration organiser Russell Hathway, a junior surgeon at Singleton Hospital, Swansea, said: "I feel our heritage is being destroyed."
Mr Hathway, 34, who is from nearby Brynmawr, hopes the building can be put to better use.
"I would like to see it used for the community," he said.
"We're open to suggestions but may be a community centre or something else for the children."
Protestor Gaynor Jones, 56, from Nantyglo, said: "I was born at that hospital. My father was treated there for 18 weeks after suffering a stroke. I don't see why it should be taken away from us - it's a disgrace.
"The people of Nantyglo have paid for that hospital but it's being taken away from us and we have no say over it."
Campaigner Janice Morgan, 57, from Nantyglo, added: "It should be turned into a museum."
The late Queen Mother opened its maternity ward in 1932 when she was the Duchess of York and more than 1,400 babies were born there over the decades.
The hospital became part of the NHS in 1948 when, say campaigners, the hospital brought with it £50,000 in cash to pay for its upkeep and future services.
They want the health board keep the building and put to another use that will preserve its heritage.
'Huge problem'
Aneurin Bevan Health Board said it was following Welsh government policy in disposing of the site, and a decision on its future would be made by the buyer.
United Welsh said it could not use the derelict building, and without development it would continue to deteriorate and "become a huge problem".
The housing association said it could "make positive use of the land whilst also respecting the history of the area".
Blaenau Gwent council said it could not prevent demolition, but the architects had to incorporate materials from the building to reflect its historical links.