Psychic guilty: Karl Lang 'preyed' on sex victims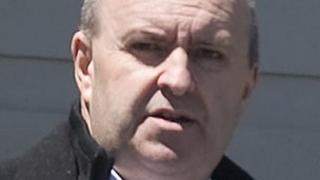 A psychic is facing jail after he was found guilty of duping young women into performing sex acts.
Karl Lang, 49, was convicted of 12 counts of causing women to engage in sexual activity without consent at Newport Crown Court.
Lang, of Newport, targeted two women in their 20s who sought him out in the belief he could contact dead relatives.
The judge said jail was inevitable. Lang, who denied the charges, will be sentenced at a later date.
The court heard that both women were encouraged to perform sex acts in front of him and pressed to act more and more outrageously as his influence increased.
One woman told the trial she was conned into acting like a "porn star" in the belief that it would boost her own spiritual powers.
The court was told that Lang generally sat watching, fully clothed, but would occasionally take his clothes off and join in.
His manipulative behaviour lasted nearly four years and covered a period from November 2005 until September 2009, the court heard.
A jury found him guilty of all 12 charges, dismissing claims that he was an innocent spiritualist instructor. All 12 counts were majority verdicts.
Judge Patrick Curran QC agreed to grant Lang bail to "get his affairs in order" until a sentencing hearing some time in July.
'Cynical exploitation'
He said: "This involved a very serious breach of trust and an immediate custodial sentence is, it seems to me, absolutely inevitable."
He described Lang's activity as "systematic conduct and a breach of trust involving two very vulnerable young women".
He added that they were "vulnerable in the sense that they were bereaved and sought the defendant's consultation in communicating with those who died, and he took the most gross advantage of the situation".
Following the case, David Watts, senior prosecutor for the Crown Prosecution Service in Wales, said: "This was a very unusual case involving the cynical exploitation of a number of young women.
"Karl Lang preyed on his victims in a callous and underhand manner. He targeted them at times in their lives when they were at their most vulnerable.
"Each of Lang's victim's has shown tremendous courage in coming forward and reporting what happened to them. We hope that today's verdict will provide them with some measure of comfort."