Cardiff City FC owner on changing club colours to red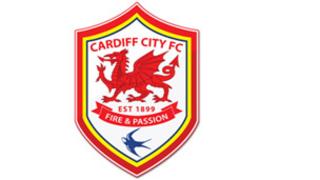 Cardiff City owner Vincent Tan has defended controversial plans to change the team's colours from blue to red.
In a statement, the Malaysian investor said while some may find it difficult to "digest or accept", the decision was financial to attract a following in international markets.
The colour red is regarded as lucky in parts of Asia.
He said he would boost his £40m investment of the last two years to £100m to improve chances of promotion.
"I would like to emphasise that I hold no desire to trample on club history or heritage and would be saddened if supporters thought that this was my intention," he said.
Last week Cardiff City FC confirmed they will change their shirts from blue to red with a new dragon crest as part of "major and significant" investment.
The move follows fresh discussions between club directors and Malaysian investors Tan Sri Vincent Tan and Dato Chan Tien Ghee, known as TG.
Now, more details of the investment have emerged in Mr Tan's statement in which he says up to £100m will be invested in the club.
'Right management'
He admits that he knew "little of football" when friend and business partner TG suggested they invested in a "British football club which had the possibility of being promoted to the top flight of English football" and regarded it initially as an investment and a business decision.
However, since his initial £6m investment for a 40% stake in the club Mr Tan has seen the "passion of the Cardiff fans towards their home club" and was "convinced that with the right management and sufficient funding" the club could make it into the Premier League.
And he explains that since then he has invested a total of £40.8m (comprising £34.8m in loans and £6m in equity) in the club.
"I believe that our club has great potential, but in order to realise that potential real world business and financial decisions need to be made at the appropriate and opportune time," he said.
"Locally driven revenues and investment can only safeguard the economic stability of Cardiff City to a certain extent given the level of financial burden that has been accumulated by the club prior to my coming on board as a major investor.
'Squad strengthening'
"As much as it may be difficult for some quarters to digest or accept, under the existing model our future sustainability is far from stable. As investors, we are duty bound to explore ways in which we feel the club can grow over the long term."
He talks of a further £35m investment expected for the club to meet its "financial obligations" for the period from now until May 2013, including a "substantial amount for squad strengthening" as well as a further £24m also expected, taking a total investment to about £100m.
Mr Tan said: "To sit and wait for the possibility of promotion before carrying out any groundwork would make little sense.
"To this end the decision to begin the hard work now will only serve us best in the long term, maximising our chance to capitalise on our present endeavours if and when Premier League status is achieved, although I appreciate there are no guarantees."
He said the club is currently working on expanding television coverage in Asia, where the club's new red colours, combined with a new dragon crest would be well regarded, he said.
"With the powerful images these portray in both Wales and the Asian marketplaces I am prepared to back this vision with the investment that we have outlined above, which I would hope demonstrates both my commitment and faith in that strategy."