Monmouth ruin find could pre-date pyramids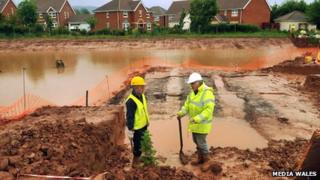 Archaeologists claim to have unearthed the remnants of a large prehistoric building, which they say could be older than Egypt's pyramids.
Experts said they were mystified by the "unique" find on the site of a housing development in Monmouth.
Monmouth Archaeology, which found the wooden foundations, said they dated to at least the Bronze Age, but could be early Neolithic, about 6,500 years old.
It said the pyramids were built about 4,500 years ago.
Steve Clarke of Monmouth Archaeology, who has 55 years' experience, claimed nothing like it had been discovered in Britain before and he was checking if something similar had been unearthed on mainland Europe.
He said the structure, possibly a long house, had been built on the edge of a long-lost lake, which had silted up over time.
The building's foundations were made from entire tree trunks, measuring about a metre wide.
"We think it could be from the Bronze Age (about 4,000 years ago), but some of the experts we've brought in to see it think it could be early Neolithic. If that's the case it could easily pre-date the pyramids," he said.
"We think it's a long house which would have been home to a family, and perhaps used for gatherings and meetings.
"We're not really sure what it is, it's a mystery, but it's the foundation for something.
"It's unique. We haven't seen anything like it. Various experts and professors are equally mystified."
Mr Clarke said the wooden foundations were at least 50ft (15m) long.
Radio-carbon tests
He said most of the known long houses were built on posts about a 1ft (30cm) wide, but trees had been used for the base of the Monmouth structure, and they had been placed on a prehistoric "burnt mound".
Mr Clarke said a burnt mound saw stones heated in a fire and then thrown into a pot or trough to boil water, although some experts think the stones were used to create an early type of sauna.
Archaeologists have ordered radio-carbon tests of the foundations and the results are expected later this month.
The find is on the Parc Glyndwr development in Monmouth, where about 80 houses are to be built.
Monmouth Archaeology was employed by the housing developers to study the site.