London 2012: Olympic trading advice offered in Cardiff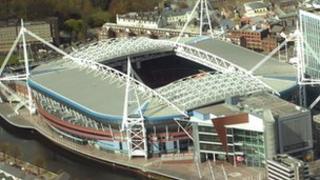 Shops and businesses near Cardiff's Millennium Stadium are being offered advice about keeping to advertising and trading rules during the Olympic Games.
Under Olympic Delivery Authority (ODA) rules, certain types of activity are not permitted in the periods when the stadium is hosting football matches.
Adverts may be banned if they are not for official Olympic sponsors.
Street trading not authorised by the London Olympic Games Organising Committee (LOCOG) may also be blocked.
An area around the Millennium Stadium has been designated as an Olympic event zone, and the rules apply to all streets within it.
Millennium Stadium event zone
[2.08 MB]
The zone is in force for three periods covering the 11 Olympic football matches being held at the Millennium Stadium - from 24 to 28 July, 30 July to 4 August and 9 and 10 August.
Businesses who break the rules could face a fine or prosecution.
Olympic Delivery Authority advertising and trading regulations
[3.41 MB]
Cardiff council's environment cabinet member Ashley Govier said: "Although the ODA is solely responsible for the introduction and enforcement of these regulations, we appreciate that some traders may still be confused about the process and what is required from them.
"We have strong links with Cardiff's business community and we want to work with retailers and traders to ensure that everyone is able to make the most of the games and the added footfall the city is likely to attract.
"This is one of the reasons why our trading standards officers are on hand to give free support and advice to any business or trader wanting further information or clarification about the regulations ahead of 25 July."
Cardiff had to sign up to the Olympic rules and regulations in order to qualify as a host venue.
The regulations cover things like the distribution of promotional materials, "ambush" marketing stunts, adverts on hoardings around building sites, and mainly apply to the use of open, public spaces.
Ordinary trading in shops is unlikely to be affected providing businesses follow the advertising rules.