Cardiff City FC: Chairman TG's commitment pledge after shirt colour row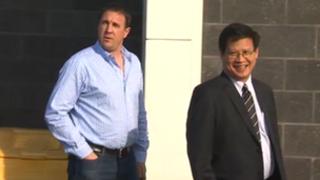 The chairman of Cardiff City FC has emerged from key discussions on its future to pledge commitment by himself and its major investor to the club.
Dato Chan Tien Ghee, known as TG, gave no details of the talks with the board.
They came after City dropped plans to change shirt colour and badge following opposition by some fans.
TG said he would return to Malaysia on Wednesday "to outline all proposals," and the club will comment further at a later stage.
TG had said before the meeting that an investment strategy said to be worth £100m would now be reassessed.
He had warned in an earlier statement that the club could not afford to continue losing money.
He also called it "unfortunate" the proposals were leaked before being finalised by the board.
TG had earlier said the proposed shirt colour change from Cardiff's traditional blue to red - which is considered lucky in the Far East - would not proceed.
In a new statement on Tuesday night, the club said TG had "relayed views and opinions from the club's Malaysian investors," including major investor Vincent Tan, "while the UK board members present were also able to convey their thoughts and ideas on the best steps forward for the club".
The statement continued: "Having collated all views and supportive documentation, TG will return to Malaysia early on Wednesday morning to outline all proposals, after which the club will be in a position to comment further on the future plans at Cardiff City FC."
TG said: "I would like to reiterate the commitment, warmth and great affinity that remains for this club from Tan Sri Vincent Tan and myself.
"We have nothing but the best interests of the club and its supporters to heart and will look to conclude matters as soon as possible to the best possible outcome.
"I would also like to personally thank the many who have sent in messages of heartfelt support and appreciation, either directly or via the club."
The club said there would be no further comment at the moment from board members or management.
It added: "All at Cardiff City Football Club appreciate the desire and appetite from supporters to learn more, and as such further information will be released at the earliest opportunity".
The rebranding proposals had begun an impassioned debate over the club's future, with some supporters opposed and others arguing that the club should accept change to help secure major funding.
One finance expert, Geoff Mesher, a partner at Grant Thornton, has warned that fans should agree a compromise between "tradition and commercial reality" because of the club's debts.