Racism warning to football supporters using Cardiff City fan websites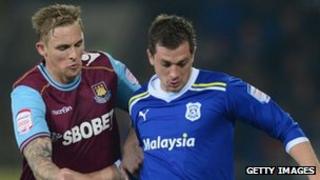 Fans on Cardiff City supporter websites have been warned police are monitoring what is being written following claims that racist messages were posted.
South Wales Police have contacted two of the most popular supporter sites.
Users of the message boards have been warned that police say they will not tolerate racist comments.
Mike Morris, who runs one, says abusive messages were posted on some sites after City's Malaysian backers planned to change team shirts from blue to red.
The City chairman is in Cardiff to discuss the club's future.
Last week, the club's Malaysian owners ditched plans to change the team shirts from blue to red, considered lucky in the Far East.
It came after "vociferous opposition" from some Cardiff fans.
Mr Morris posted: "In light of what happened last week that saw racist, abusive and inappropriate messages posted on internet sites and social networking sites regarding our Malaysian backers, the levels of surveillance on Cardiff City-related websites has been increased.
"South Wales Police have asked me this morning to post this sticky as a warning that such behaviour will not be tolerated and they will prosecute offenders if the same thing happens again.
"A case, just a number of weeks ago, resulted in a jail term for a lad who racially abused Fabrice Muamba on the internet.
"The police are serious and will do all in their power to find people who post racial, abusive and inappropriate material and will prosecute."
Swansea University student Liam Stacey, 21, from Pontypridd, was jailed for posting racially offensive comments on Twitter about footballer Fabrice Muamba.
Increase revenue
He admitted inciting racial hatred over remarks about the Bolton Wanderers player, who collapsed during a cup tie against Tottenham Hotspur.
A warning about messages was also posted on another popular fans' site.
Moderator Carl Curtis wrote on Cardiff City Forum: "I have been asked to advise everyone who posts on this message board that South Wales Police will not tolerate any racist comments and where necessary they will look to prosecute anyone who posts any such comments.
"There has been no complaints about this board whatsoever and we want that to remain the case."
City chairman Dato Chan Tien Ghee, known as TG, is in Cardiff to discuss the club's future at an important board meeting on Tuesday.
The investors' plans were said to be designed to increase revenue, which would in turn allow manager Malky Mackay to strengthen the playing squad, improve training facilities and increase the stadium capacity.
But there was concern from many supporters that turning the home kit red and changing the badge from a Bluebird to a dragon would compromise the club's identity.
Following opposition, Mr Ghee said an investment strategy said to be worth £100m would now be reassessed.
But he warned that the club, which is losing a reported £1m a month, could not afford to continue on its current path.
Many fans now appear to have come round to the idea of a rebrand rather than risk losing the financial support of the Malaysians.