Babies to 'teach' pupils empathy in Cardiff classrooms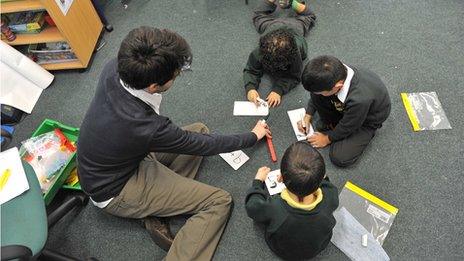 Babies are set to be brought into primary schools in Cardiff to help improve pupils' empathy levels and help reduce any bullying and aggression.
The scheme, pioneered in Canada, encourages children to interact in a nurturing manner after observing a parent and baby in the classroom.
Reports suggest children who have taken part are more likely to help others, share, and accept peers as they are.
The programme is being run by the charity Action for Children (AfC).
Around 2,000 school children will take part in Roots of Empathy, as the scheme is known, which will see a local parent and young baby visit their school nine times over the course of a school year.
The sessions will be led by AfC staff trained in the techniques of the programme.
Debra Ennis, the charity's children's services manager, said the project had been running very successfully in Scotland for two years and a Big Lottery Fund grant had enabled them to bring it to Wales.
"We chose Cardiff as we have a really good relationship with the local authority and already run some programmes here.
"We are looking at other local authorities as well, Neath Port Talbot, Rhondda Cynon Taf and Caerphilly, and hope to roll it out across the whole of south Wales eventually.
"The results in Scotland have been amazing. I was a bit sceptical at first - babies going into classrooms - but the turnaround in behaviour in children's classrooms and drop in anti-social behaviour has been amazing.
"In Scotland, there was a little boy who was very withdrawn and not involved with other children. He took the baby away in a harness and when he came back said to the teacher words to the effect of 'this baby though I was special. No-one's ever thought I was special'.
'Respectful relationships'
"It was a way in for the teachers to explain that everyone is special and to engage him."
Ten schools in Cardiff will initially take part, in areas of identified as having higher deprivation and greater need, involving children in years 5 and 6.
For nine months, they will have three sessions per month: a preparation session, a second one with the mother and baby and a follow-up.
Brigitte Gater, operational director of AfC in Wales, said: "Roots of Empathy teaches school children to understand their own feelings and the feelings of others by using a baby as the 'tiny teacher'.
"This raises levels of empathy amongst classmates, resulting in more respectful relationships and a dramatic reduction in levels of aggression among school children.
"By increasing levels of 'emotional literacy' in children at a young age we can lay the foundation for safe and caring classrooms and, in the long-term, safe and caring societies."
Related Internet Links
The BBC is not responsible for the content of external sites.