Gwent Wildlife Trust bid to extend Magor Marsh nature reserve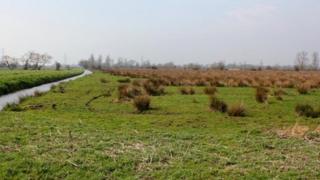 Conservationists hope to extend a south Wales nature reserve by more than half by buying an area of marshy grassland.
Eleven fields adjoining Magor Marsh reserve at Barecroft Common, Caldicot, near Newport, will be auctioned at the end of April.
Gwent Wildlife Trust said the 49 acres (20 hectares) of species-rich peatland represented some of the best marshy grassland left on the Gwent Levels.
The trust said it wanted to safeguard the rare plants and wildlife.
'Wildlife value'
"There are lots of different plants there that we have not seen in the same numbers even on Magor Marsh, so we are very excited about the land," said chief executive Tom Clarke.
The trust estimates that it will have to raise £300,000 to secure the fields, to be auctioned in five lots on 26 April.
"We know we are being incredibly ambitious here," said Mr Clarke.
"We may have to look at the five lots and prioritise accordingly, but what we would ideally like is to buy the whole lot."
Conservation manager Rebecca Price said the fields would increase in their value for wildlife under the trust's care.
"It would be a tragedy if they were ploughed up," she said.
Magor Marsh reserve was formed by the trust in 1963.
Comprising of 89 acres (36 hectares), it has been designated a Site of Special Scientific Interest due to the range of its habitats, insects and wildlife.
The reserve houses an education centre which the trust said had been visited by more than 20,000 children in recent years.