University of Glamorgan's £28m expansion in Cardiff and Treforest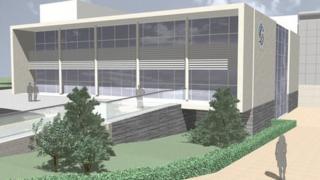 The University of Glamorgan has announced a £28m investment in its campuses in Cardiff and Treforest.
It said it planned to add another 2,500 students after a 43% rise in applications over the last four years.
Around £15m will be spent expanding the Atrium cultural campus in Cardiff, while £13m will improve facilities in Treforest.
The university is facing a three-way merger with Cardiff Metropolitan and the University of Wales, Newport.
The latest projects follow a £130m programme of investment across University of Glamorgan sites, including a £22.5m redevelopment of the Royal Welsh College of Music and Drama in Cardiff, and a new tertiary college in Merthyr Tydfil.
'Confidence'
Vice-chancellor Julie Lydon said: "All universities are in a tough market, but Glamorgan is confident and financially robust, with rising applications and rated top in Wales for the success of our students going into jobs or further study after graduating.
"Our bold decision to expand our campuses in Cardiff and invest further in the valleys reflects our confidence that we are the university of choice for both students and the business community."
The university says an extension to its Atrium campus in Cardiff opening in September 2014 will cater for up to 1,200 more students, meeting demand from the creative industries and financial sector.
The £13m investment at Treforest, where the university was created from the former Polytechnic of Wales, will provide new lecture theatres, scientific laboratories and other facilities.
The University of Glamorgan is also behind a project to build a new tertiary college in Merthyr Tydfil, despite opposition from some parents and pupils who want to preserve local secondary school sixth forms.
The announcement comes as discussion continues over plans for a three-way merger to create a so-called "super-university" for south east Wales, in a shake-up of higher education backed by education minister Leighton Andrews.
Cardiff Metropolitan University has already declared its opposition to the plan to merge with Glamorgan and the University of Wales, Newport, while the other two bodies have responded more cautiously.