Legacy of Rhondda Burberry factory closure five years on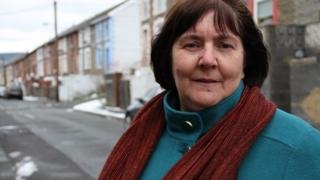 Joan Young was four years away from retirement when she was made redundant in a decision that began a remarkable worldwide campaign.
The Burberry factory worker was one of 304 employees put out of work when the firm pulled its polo shirt production out of Rhondda after 18 years in 2007.
A clothing factory had stood on the site for nearly 70 years, and some of the threatened workers had spent their whole careers there under different management.
A co-ordinated effort began to try to persuade Burberry to halt the relocation of the plant overseas.
There were protests in cities as diverse as London, Paris, New York, Chicago, Strasbourg and Las Vegas, while stars including Sir Tom Jones, Michael Sheen, Ioan Gruffudd, Rhys Ifans, Charlotte Church and Ben Elton backed the workers.
Their campaign was not successful, and the factory closed its doors on 30 March, but not before hundreds of workers made a final march from the gates, joined by male choristers and a jazz band.
Mrs Young, now retired, never went back to full-time work, a story she believes was prevalent among the largely female workforce.
Five years after the closure, Mrs Young said: "I rarely see any of the girls now. I was talking to one girl in her 50s who had a job in Asda but not full-time," she said.
"A lot have had jobs in nursing homes but still not full-time.
"Some of them, particularly the men, haven't had a job at all."
She herself found another part-time job for a while in a nursing home, but developed shoulder and arm problems and was unable to work for two years.
A job at Asda followed, but she had to leave to take care of her mother, and then reached 60 and received her pension.
She and her husband had just finished putting their youngest child through university when the redundancies were announced, a few days after her husband had taken early retirement.
The additional four years would have helped them have money "to save or to squander - either would have been nice," she said ruefully.
Mrs Young said the building had had a revamp since Burberry's departure and was partially in use to small businesses such as a mechanic and a carpet warehouse, while the double glazing firm Everest occupied a section.
However she estimated only 25% of the building was occupied.
"There were electrics put in for a call centre but no-one is in there. It's a huge room, and it's empty."
A website listing for the factory, now the Parc Busnes Treorci, was advertising up to 7,000sqm of space available in the building.
Now 61, she still acts as a trustee for the Rhondda Trust, which was set up with money donated by Burberry to benefit the people of Rhondda for 10 years.
The trust meets twice a year to allocate the annual £150,000 given to them, with one section going to groups and the other to individuals.
Some of the beneficiaries have been former Burberry workers who have received funding from the Trust for training or to help them get into work.
Mrs Young added: "Someone's had tools off us, another had a grant to have her HGV licence.
"We gave her the money and she doesn't have to pay it back, and she's found employment.
"It doesn't take long to give away all our money."
Fellow Rhondda Trust board member and Rhondda MP Chris Bryant agreed with Mrs Young's assessment that many of the workers had struggled to find full-time employment following the loss of Burberry.
"The truth is there's no jobs of that kind at all. It was a large factory in the Rhondda and those jobs have not been replaced.
"We have tried but it's pretty tough out there," he said.
Electrification
Mr Bryant said there were 54 people chasing every vacancy in Rhondda, and that figure only included those claiming Jobseeker's Allowance, and not anyone on incapacity benefits attempting to return to work.
In terms of the future for places like Treorchy, Mr Bryant said there had been talk of a bypass for the town to improve access for business, but the geography of the valley made it difficult.
"There isn't much flat land available. In essence, you'd have to take out the railway, which wouldn't be very helpful," he said.
"I'd like to see electrification of the valley lines and double tracking up the line to Treherbert because the trains would be able to go much faster, and cut the journey time from there to Cardiff right down."
Although quick to acknowledge that the money from Burberry for the trust was not a preferable substitute for good full-time jobs, he did think the grants had achieved something tangible.
"To individuals, it's made a tremendous difference because people have been able to take up courses that they couldn't have afforded otherwise," he said.
"The trust has single-handedly improved Welsh-language nurseries, the meithrins. I think we have funded about five.
"We have helped with a lot of childcare, and the youth service we have been able to support."