Blaenau Gwent firms offered skills help by volunteers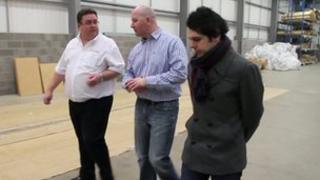 Aspiring businesses in one of Wales' unemployment blackspots are being offered skills and advice by local volunteers under a new support scheme.
Effect Blaenau Gwent visits local firms to learn about areas of expertise they are lacking, from marketing to bookkeeping, finance or premises.
It then goes back to a panel of local volunteers to see if they have the necessary skills or resources to help.
The idea of Enterprise Facilitiation was first tried in rural Australia.
Devised by Dr Ernesto Sirolli, the aim is to engage the local community in supporting new firms and would-be entrepreneurs with their skills and expertise.
One of the key figures in Blaenau Gwent is Moe Forouzan, the project's "enterprise facilitator", backed up by a grant-supported board representing the private, public and voluntary sectors.
Working on the move, without an office of his own, the former council economic development officer from Abertillery serves as a point of contact for local companies seeking help.
He said: "We have a lot of people approach us that say, 'I'm stuck, I don't know where to go, I need support in marketing I need help in finance, I'm finding it difficult to find premises'.
"This is where then I tap into our local network - this network can specialise in so many areas from marketing, to accountancy, to finance, to general business issues that any business may need support in.
"The aim of it is to create a robust economy where we can create jobs and watch our businesses develop and grow.
The scheme involves a 60-strong panel of local volunteers with different skills and expertise who meet monthly to hear of the needs of firms and to discuss how they can help.
Mr Forouzan said if no-one on the panel has the right skills, they will try to put the client in touch with someone else locally who can help them, often free of charge - anything from a marketing plan to a second hand till.
"To quote Dr Sirolli, the death of the entrepreneur is solitude - that's why a lot of these firms fail," he says.
'Build a team'
"We're saying, concentrate on your passion - the product or the service - and we'll try and build a team around you."
It is thought to be the first scheme in Wales based on Enterprise Facilitation, which has already been introduced in countries on every continent since the first project in western Australia began in 1985.
So far, in its first year of operation, Effect Blaenau Gwent has helped nearly 140 different clients, ranging from people with business start-up ideas to established small firms and social enterprises.
Mr Forouzan said the project was in its early days but plans to hold a celebration of its work so far at an event in Ebbw Vale in April.
"My passion is to make Blaenau Gwent a better place - we're always hearing about the negative things," he says.
"I want to bring jobs to the area and to help people with ideas.
"A lot of people are quite lost at the moment - in Blaenau Gwent there's increasing hardship and almost an anti-enterprise culture.
"We have to break through those barriers."