Blaenau Gwent council issues 1,000 litter fines in trial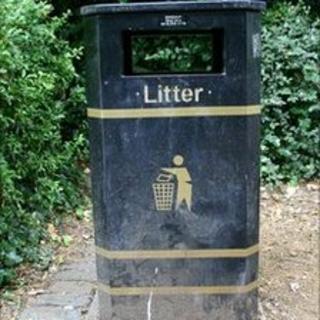 More than 1,000 fines have been issued to people who dropped litter or failed to clear up dog mess in Blaenau Gwent over the last six months.
Wardens were brought in to issue the £75 fines as part of a crackdown, which is to be extended by a further six months, to tackle the issue.
Blaenau Gwent council employed the private security firm XFOR after receiving hundreds of complaints about street cleanliness.
But some say the fines are too high.
The council said the scheme had made a noticeable difference, but it has not been met with universal approval.
There was controversy when one woman was issued with a ticket for dropping a piece of cotton which had been pulled off her glove.
Andrew Long, team leader of the pollution section at the council, said the scheme was not being used to raise money for the council, but he was pleased with its progress.
"We've tried a number of initiatives over recent years to try and change people's attitudes including advertising campaigns, going into schools, educational talks, spending more money on street cleansing generally, but we were still considered to be one of the least clean authorities in Wales," he said.
"I think it's a tool we have to use, it's a tool we need to use to change people's behaviour and the attitude of environmental health is that if we're going to do it, let's do it well."
Some in the county are opposed to the litter fines.
A man in Abertillery said: "My argument is there's no signs saying there's going to be £75 (fine), and plus there's nothing to put my fag in.
"I'm on income, I've got three kids, and they expect me to pay this £75 and there's no warning.
Violence
"There should be facilities to put the fags in, more I reckon.
"I'm on a small income, on the dole. £75 - that's half the giro. "You tell that to my kids when they want their bottle and that. It's petty, I think."
But other people welcomed the scheme.
A woman in Abertillery said: "It makes the community look so much better and presentable."
Wardens wear body cameras to record encounters with people for health and safety and evidence reasons.
But they still have tales of aggression and sometimes violence as they carry out their work, and claim they have been punched, kicked, spat at and verbally abused.
Both XFOR and the council receive an income from the scheme, with the council employing two dog mess wardens with its share.
XFOR has now been awarded a similar contract in the Vale of Glamorgan.