Cardiff University food safety device to detect E. coli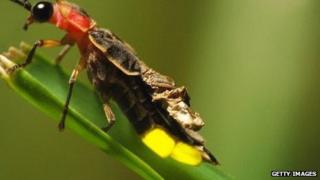 A chemical which lights up fireflies is being used to develop a device for detecting salmonella, E. coli and listeria in contaminated food.
Cardiff University's Bioluminescent Assay in Real-Time (Bart) tests quickly and simply for bacteria, something normally carried out in a laboratory.
Food is placed inside Bart and the bacteria triggers luciferase, which is found in fireflies, to produce light.
It is hoped to develop the system to test for diseases, including HIV-AIDS.
Fireflies are best known for the light emitted from their abdomens.
The yellows, greens and reds result from a chemical reaction known as bioluminescence, used to attract both mates and prey.
Bart has been jointly invented by Prof Jim Murray of Cardiff University and Dr Laurence Tisi of technology company Lumora Ltd.
Prof Murray said: "The food industry has been looking for dependable, fast and convenient microbiological testing for a long time.
"Our system will allow workers to test a wide variety of foods in a simple system which uses the most sensitive molecular technology.
"Portable versions of the device mean that it's now even possible to test farm animals in the food chain."
Cardiff University said Bart was a remarkably simple device.
Food samples are placed inside and it tests for the DNA of common food bacteria.
If present, the bacteria triggers the luciferase to produce light.
The device can produce results in 10 minutes to an hour, depending on the number of organisms being tested for.
Bart can be used to detect a range of bacteria including salmonella, the bacterium that causes food poisoning when people eat food contaminated by it.
It is found on raw meat, poultry and eggs, and can be excreted by people and pests as well.
Most of the millions of salmonella infections a year are not serious, causing only mild stomach upsets.
Serious illness
Occasionally, however, particularly in the elderly or in people with weakened immune systems, they can be life-threatening and may need treatment with antibiotics.
Listeria is a rare but serious illness caused by food containing the bacterium Listeria monocytogenes, and can cause flu-like symptoms.
Most E. coli strains pose no harm to humans, except for O157:H7, which can cause food poisoning and can be life-threatening.
Prof Murray said he wanted to apply the Bart technology to a range of other illnesses.
"The most obvious and most pressing need is HIV-AIDS," he added.
"Patients need to be continuously tested for their viral loads so that their treatment dosage can be adjusted.
"At the moment, this requires laboratory facilities which are in short supply in Africa. We hope to create a device which can be used easily in those countries."