Wasim Miah and Jessica Jones win 2012 UK young engineer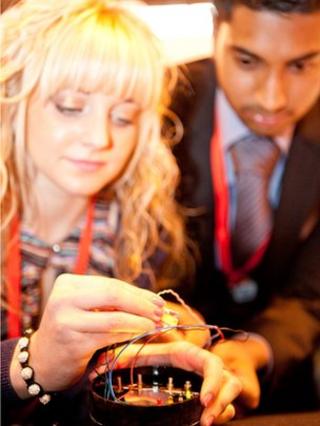 Two Cardiff students have been named UK young engineers of the year with a device to monitor foetal contractions.
Wasim Miah and Jessica Jones, both 17, devised the monitoring system to give an indication to would-be mothers as to when they are about to go into labour.
The Contraction Optical Monitoring System measures the intensity of contractions.
Jessica became the first girl to win the award.
Judges said the efforts of the pair was exceptional. They study at St David's Catholic College.
On the judging panel was Nobel Prize winning biochemist Sir Tim Hunt and space scientist Dr Maggie Aderin-Pocock.
She said: "The country's science and engineering industry has an incredibly bright future ahead of it if Wasim, Jessica and their fellow finalists are anything to go by."
A total of 360 young people aged 11-18 year olds from across the UK were given the chance to enter the National Science & Engineering Competition at The Big Bang UK Young Scientists & Engineers Fair at Birmingham's NEC.
Jessica said: "I can't believe I'm the first girl to win the UK Young Engineer of the Year, it makes the achievement all the more amazing."
Co-winner Wasim said: "This is absolutely brilliant but we're both still shell-shocked."