Gwent Police stations closure fear of MP Wayne David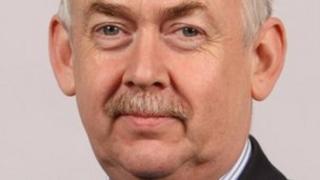 An MP says Gwent Police may end up with just one full time police station.
Caerphilly Labour MP Wayne David says he has been told the police authority is considering cuts he claims would be "catastrophic" for the public.
Mr David says there may be a full-time station in Newport, while Ystrad Mynach and Ebbw Vale would open to the public 9am to 5pm and others only part time.
The force says it has to make £32m savings and point out that the way people report crimes has changed.
Mr David told BBC Wales: "I've been told confidentially by a senior police officer that Gwent Police Authority are considering the possibility of widespread cuts the like of which we have not seen before.
"The cuts will fall primarily on police stations right across the area and such are the scale of the cuts I think they would be absolutely catastrophic.
Antiquated buildings
"We need to preserve front line policing as far as we possibly can but also maintain the interface between the police and local communities.
"I think if we go along the programme of cuts that is being suggested here and close virtually every police station in Gwent the fracture between the police and the local community will be so deep it will be enormously damaging and the only people who will benefit will be criminals."
In a statement Gwent Police saidit was looking to redesign the way people accessed its services and research showed there were more efficient ways than investing "limited funding on antiquated police buildings that are often poorly located for the community."
"The public have told us that they want police officers to be more visible in the community, using new technology to engage and interact with them and listen to their needs," the force said.
"Society is changing in the way it communicates and reports crime, and Gwent Police will respond accordingly in the way that it develops and delivers its services.
"The public can be reassured that there is absolutely no threat to our 24/7 response nor to our visible neighbourhood officer presence in communities."
Stations shutting
It said it was consulting with unions on its plans and no decision had yet been taken.
Ian Johnston, a former chief superintendent at Gwent Police, told BBC Wales the plans sounded "highly likely."
"More and more police stations not just in Gwent but in Wales will be shutting - that's reality," he added.
"The reality is less and less people go to police stations on foot and Gwent Police have carried out research to show that the number of people actually calling to the police station has diminished considerably.
"People now use the phone, the internet etc."
Police minister Nick Herbert recently insisted the UK government is committed to protecting front line police services.
He said: "We believe that this spending reductions, which are essential because we have to deal with the deficit, are manageable.
"There are very considerable savings that can be driven out of policing by them working more effectively."